The One Room Wonders video series tells the stories behind achievable room transformations in real homes with the help of Surround by Laminex wall panels and shows how you can do it too.
Since its launch in 2008, the Design Files has become many Australians' go-to website for interior design inspiration. So we're understandably excited to be partnering with founder Lucy Feagins and her team to present One Room Wonders, a new video series that shows how to transform any room in your home into a beautiful interior space, with the help of Surround by Laminex wall linings. There are four videos in the series, each focusing on a DIY room makeover in a real home, and each designed to be achievable for you.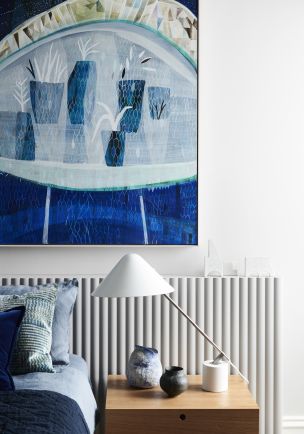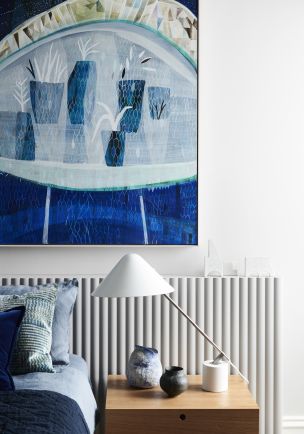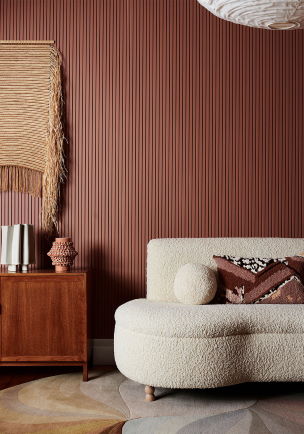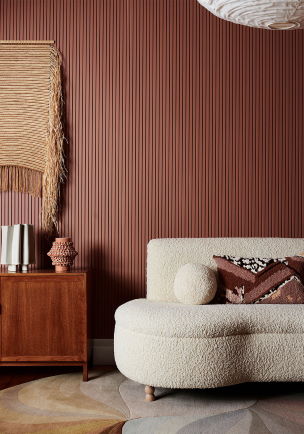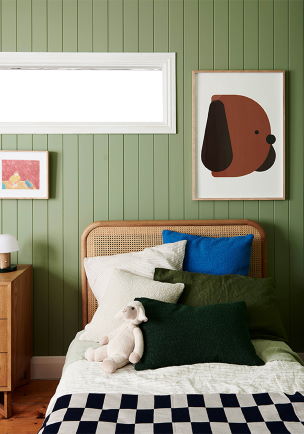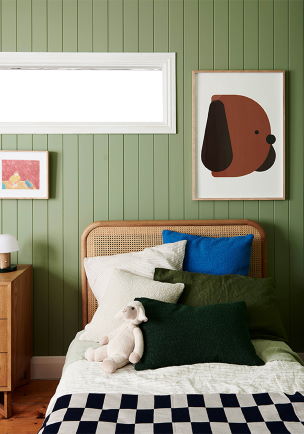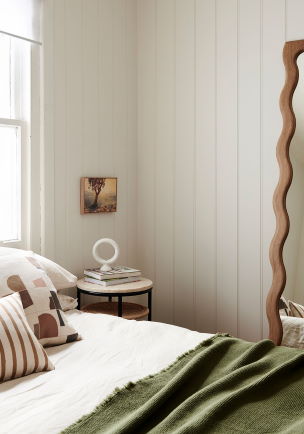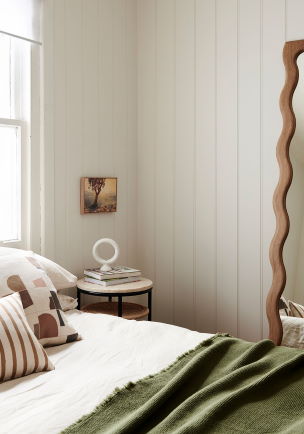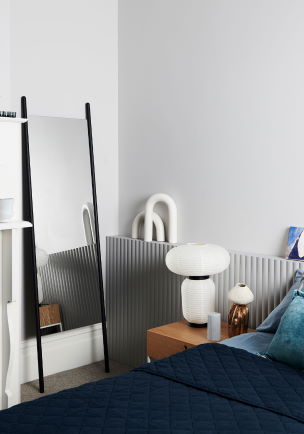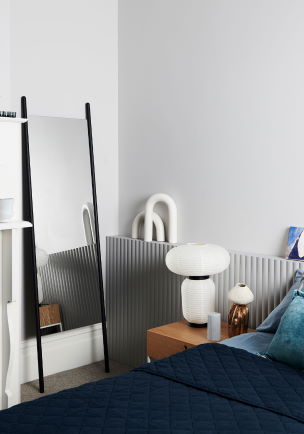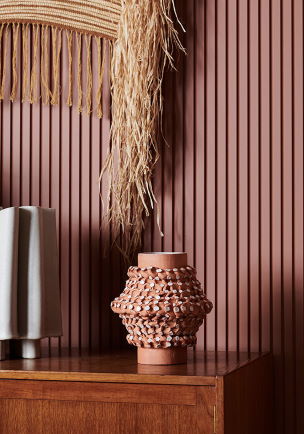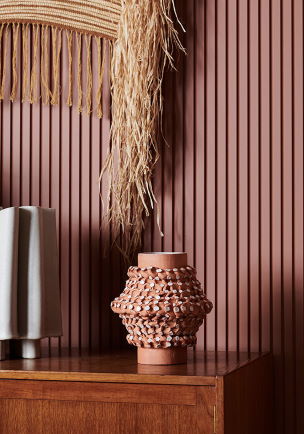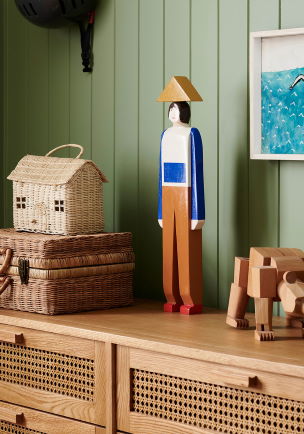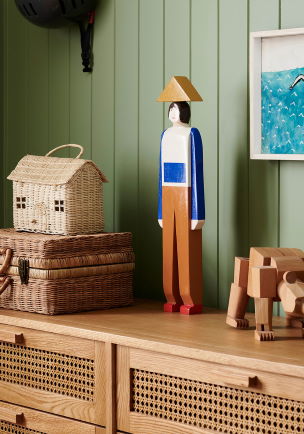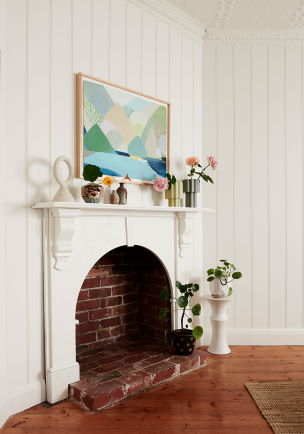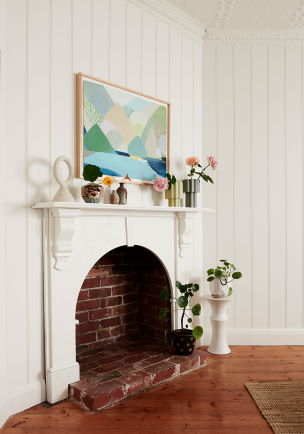 A contemporary chic bedroom
The first room to be transformed was a fairly plain master bedroom. Surround by Laminex Demi Round 40mm panelling was used to create a wide headboard, its smoothly scalloped profile bringing a contemporary edge and immediate visual interest to the room. The headboard doubles as a ledge for displaying artwork and personal objects, adding colour and life to the space.
The same panelling profile was used to create a small banquette seat, to make better use of a dark corner next to the fireplace. The walls were painted in a pale grey with the panelling two shades darker, the subtle tonal shift creating a sense of depth and providing a neutral backdrop for splashes of colour via soft furnishings and furniture.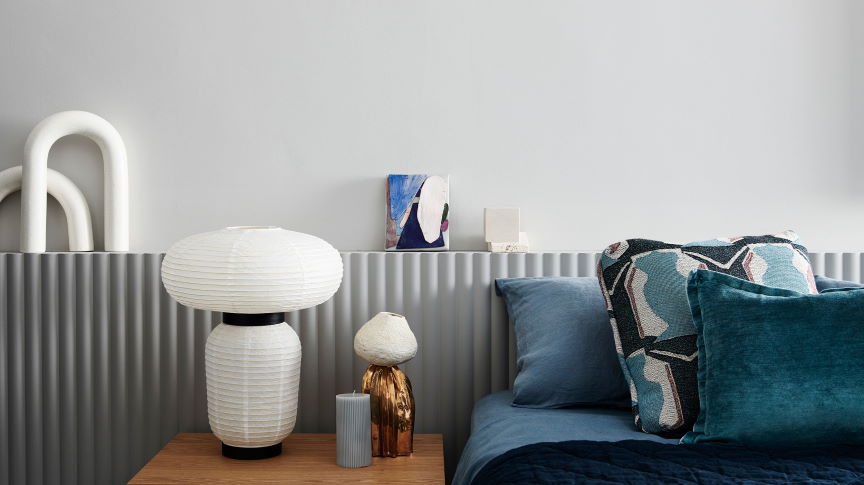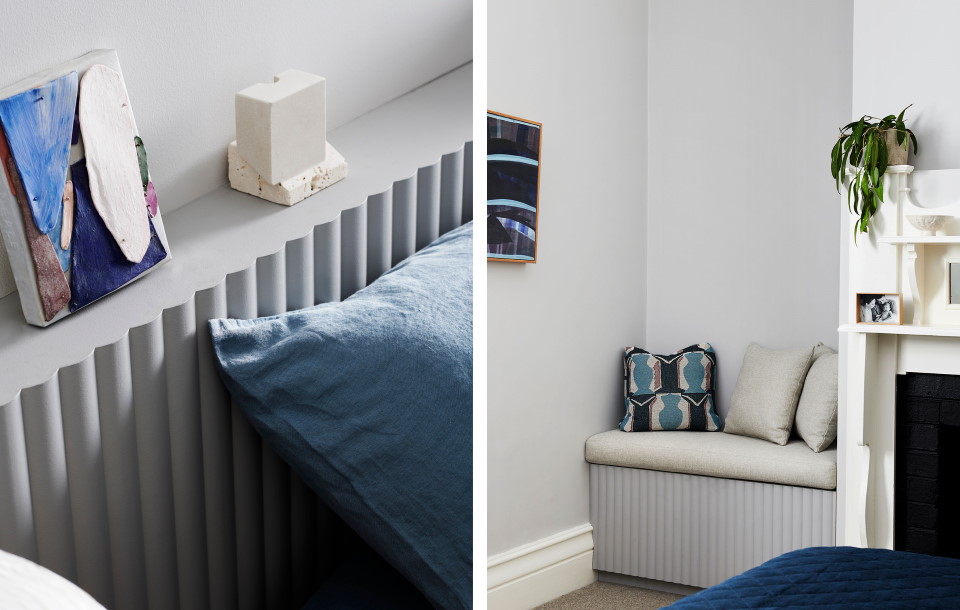 A serene and stylish sitting room
Our next makeover was for a simple art deco sitting room. The picture rails were removed, because they'd been installed quite low, which was making the room feel small. Then we installed Surround by Laminex Batten 25mm panelling to accentuate the full height of the wall. This profile features sharp, narrow grooves that complement the original details in the space, but with a contemporary edge. Painted in a deep clay tone, they bring richness, warmth and texture.
The room was then styled with a mix of vintage furniture and contemporary design pieces, a large rug to again make the space feel bigger, pops of red and strong, curved silhouettes for a modern feel, and lamps to create an inviting, cosy atmosphere. Compare the "before" and "after" shots – It's quite a transformation!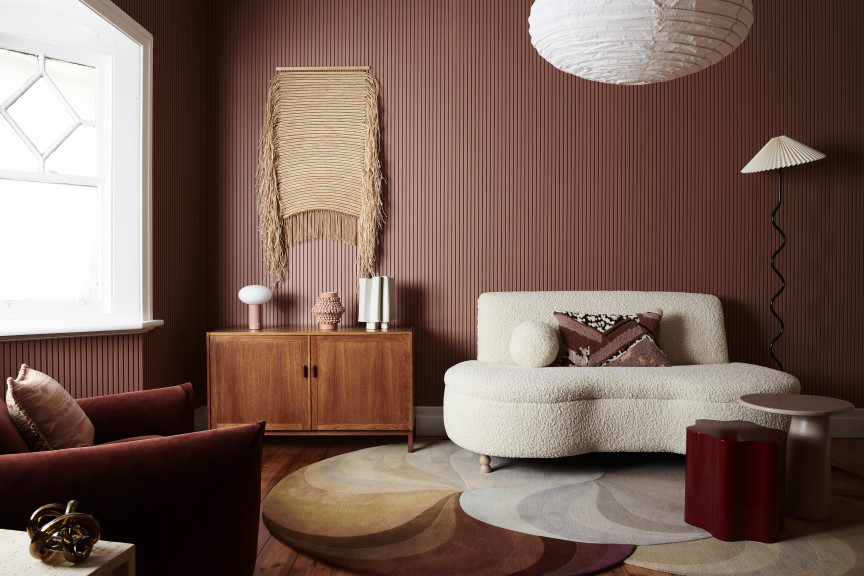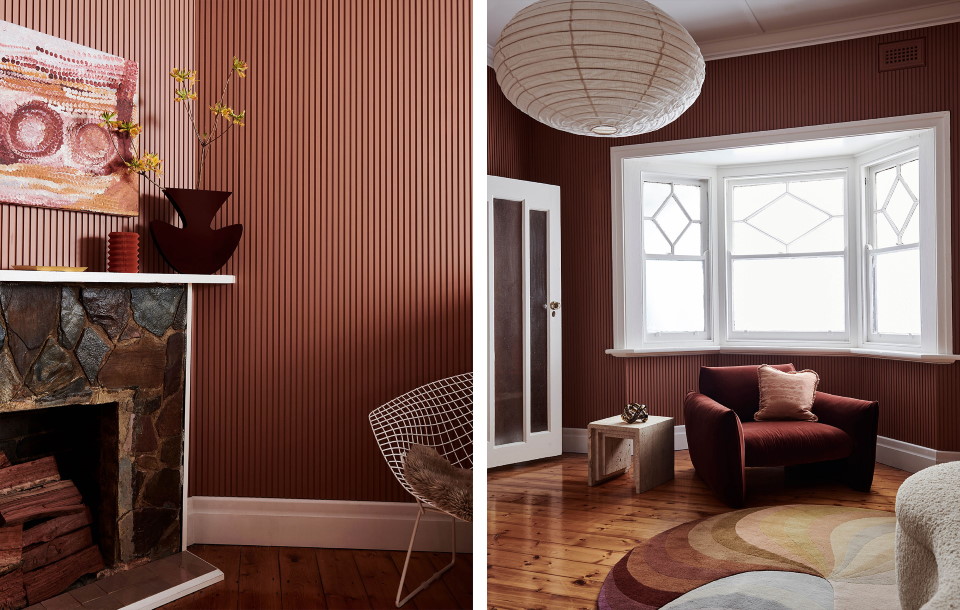 A classic, colourful kid's room
The third room to be transformed was a baby's room, which needed to transition to a bedroom for a growing child, and in a way that would last through to their teenage years. Surround by Laminex Classic VJ 100 profile was chosen to clad the walls from floor to ceiling, not just because of the timeless appeal of its V-groove profile, but because it's a hardwearing option that can stand up to the bumps and scuffs to be expected when kids are at play! It was painted in a beautiful sage green, which adds depth to the space and creates a connection to the green views outside.
For consistency with the rest of this heritage home, the skirting boards, cornicing, window and door frames were retained in their original warm white. A rug, bed covers, objects and art were then added for more vibrant colour, with an armchair and chest of drawers chosen to provide amenity for years to come.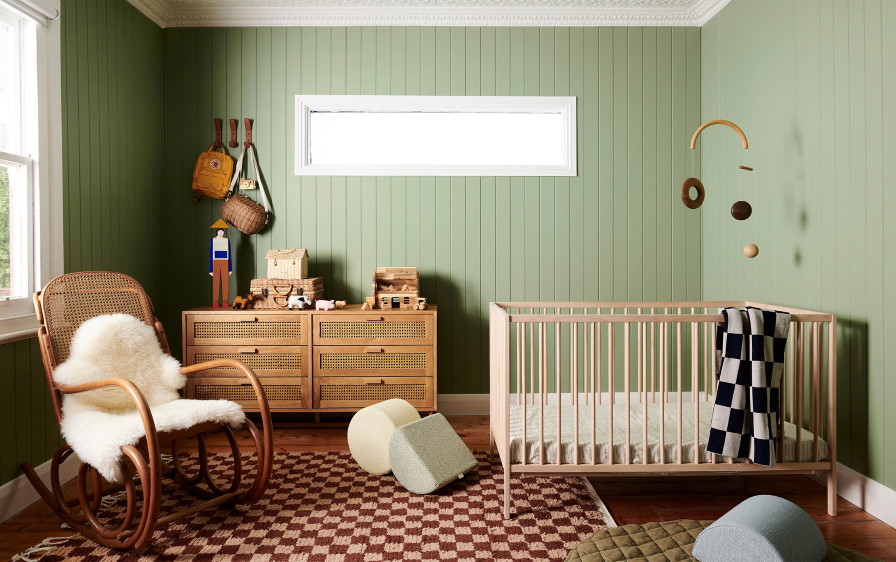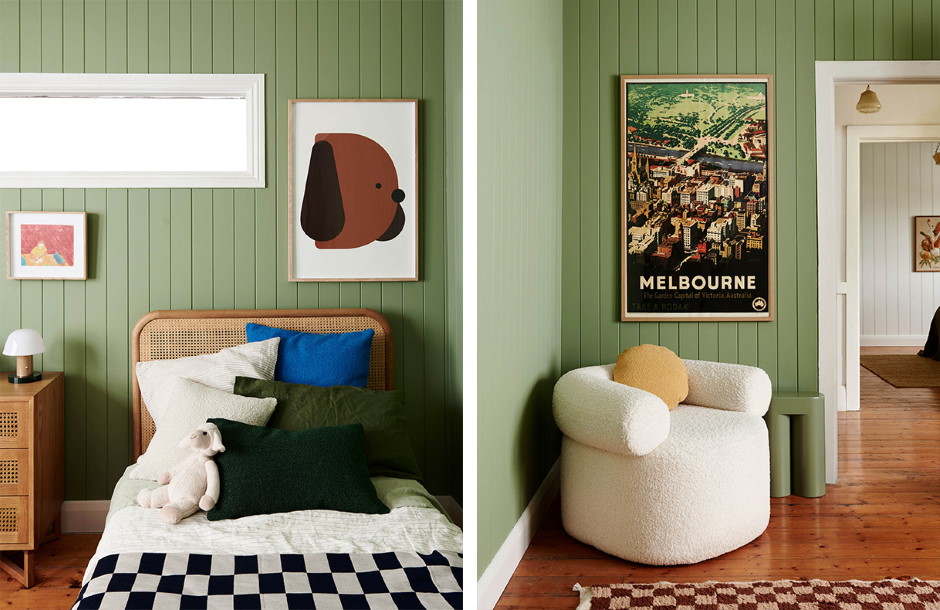 A timeless heritage bedroom
The final DIY makeover is of a bedroom in a heritage home in regional Victoria. Surround by Laminex Heritage 150 panelling was the perfect choice, because it's such a classic profile, with a small, curved detail between each panel. It was used to clad the walls and cupboard doors, as well as building out the raw brick fireplace, and painted in a warm white, to create a seamless finish. An antique mantelpiece was also sourced, to honour the classic period look of the home.
The existing heavy bedframe was replaced with a simple bed base, to make the small room feel bigger. Other styling was used to elevate the space, including leather strap handles on the cupboard doors, and botanical artworks reframed and hung "salon style" to create a visual feature.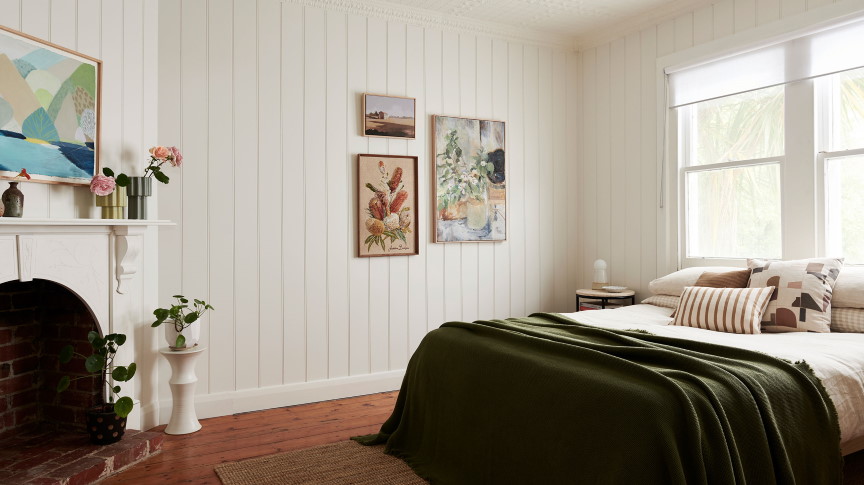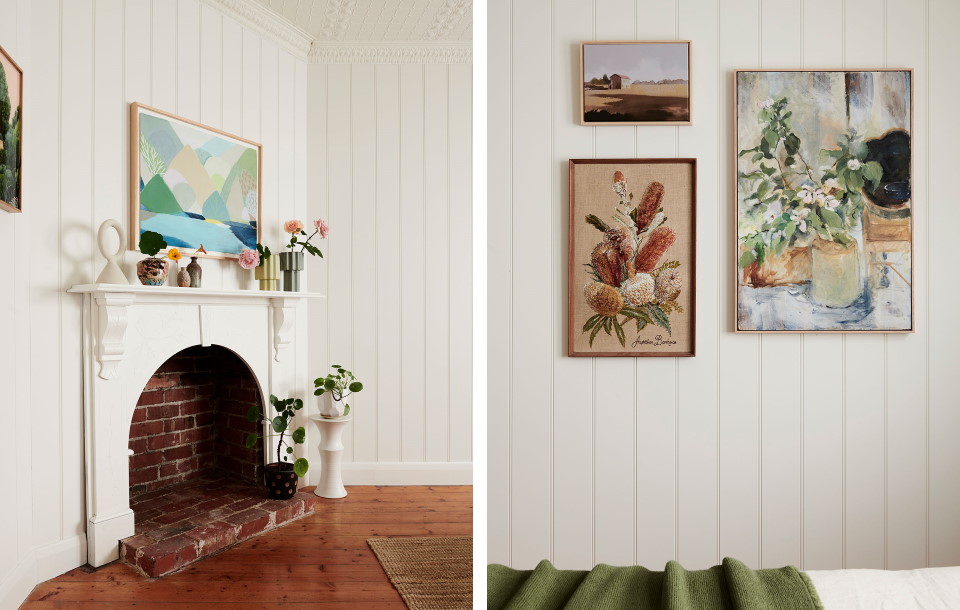 To get more inspiration for your next renovation project, follow Surround by Laminex on Facebook and Instagram.
Contributors:
Styling: Annie Portelli & Lucy Feagins
Photography: Eve G Wilson