Half a century after his father designed and built a house in suburban Melbourne, architect Henry Sgourakis returned to the site to design his new home.
In the story of this house, family and architecture are intertwined. It was designed by architect Henry Sgourakis, for himself to live in, on a small block of land subdivided from the backyard of a house designed and built by his father some 50 years prior. Taken on face value, the new house is a compelling case study for how the suburbs of Australia's major cities might accommodate greater population density. But with the two generations of this family now working together in Sgourakis Architects, and the two houses now sitting side by side, it takes on a different significance.
The old and new houses speak to each other through their materiality – the former made from brick and pine in inimitable 1970s style, the latter putting a modern spin on that formula, with white brick and breeze blocks, and a colourful interior. But from a design perspective, the new building is quite distinct. It pushes the envelope on what can be achieved in a home with a small footprint, using a central double-height void and extensive but carefully positioned glazing to bring in natural light and create feelings of spaciousness.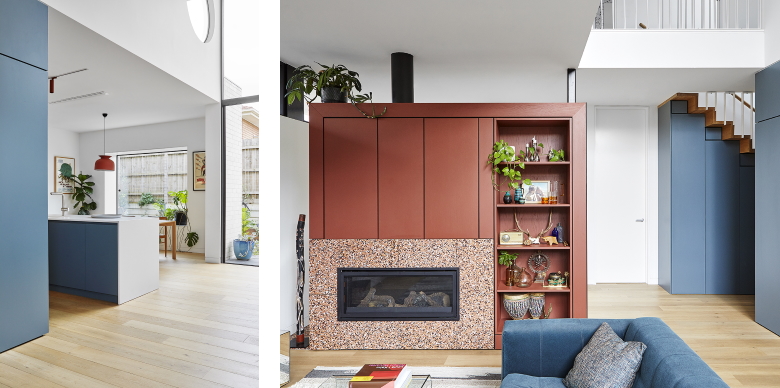 Colour plays a major role in the interior, and for Sgourakis it was a way to put his personal stamp on the place. As he explains quite joyfully, "It's my house and I wanted to have fun with it!" Much of this is achieved with Laminex laminates. The kitchen pairs two Laminex decors – grey-based blue Winter Sky and classic, warm Polar White – to beautiful effect. "It's a really beautiful finish," says Sgourakis. "It looks and feels soft and tactile."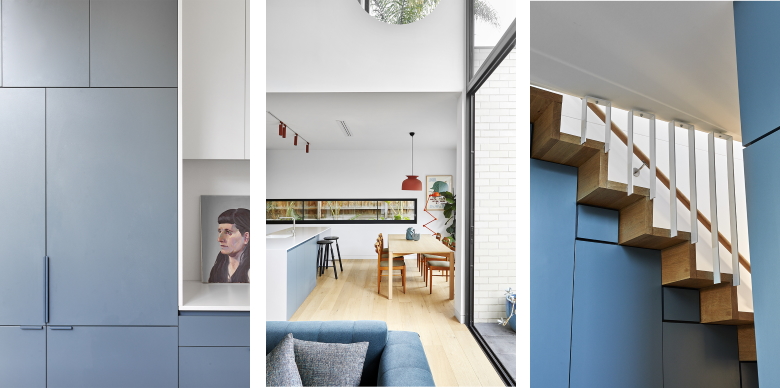 Laminex Winter Sky wraps around the wall from the kitchen into a corridor next to the stairway, creating the impression of the kitchen being a discrete building block within the structure of the home, "holding up the larger form above," as Sgourakis puts it. A freestanding wall of cabinetry in the living area achieves a similar effect. It's fabricated from timber veneer hand-stained to a bold terracotta-like tone, with a fireplace surround made from red terrazzo tiles. Not coincidentally, that terrazzo has flecks of white and blue-green aggregate very similar to the colours in the kitchen.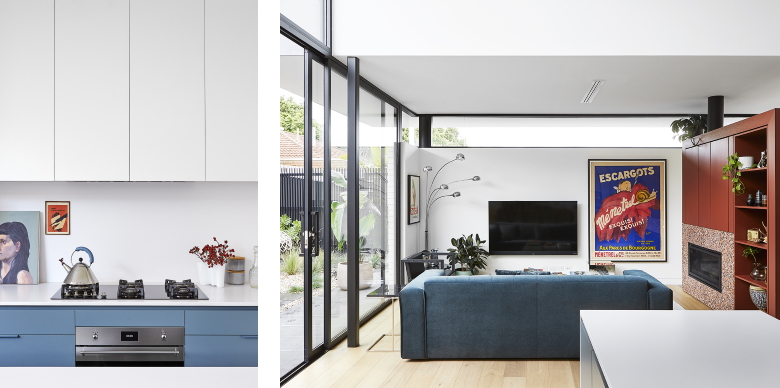 White reappears in a cleverly concealed laundry and powder room, providing strong contrast to walls and ceiling painted a deep blue-purple, and joinery in Formica Deep Sea. A similar effect could be achieved with Laminex Midnight. And then, through the rest of the home, furniture, light fittings, soft furnishings and even the front door provide colourful cameos. Each new hue is artfully coordinated with the broader scheme, an achievement best illustrated by Sgourakis's anecdote about the carpenters and joiners on site, who were dubious when they saw some of the individual colours being introduced. "They were all saying, 'Mate, what are you doing, it's going to be a disaster," he laughs. "And by the time they left they all loved it!"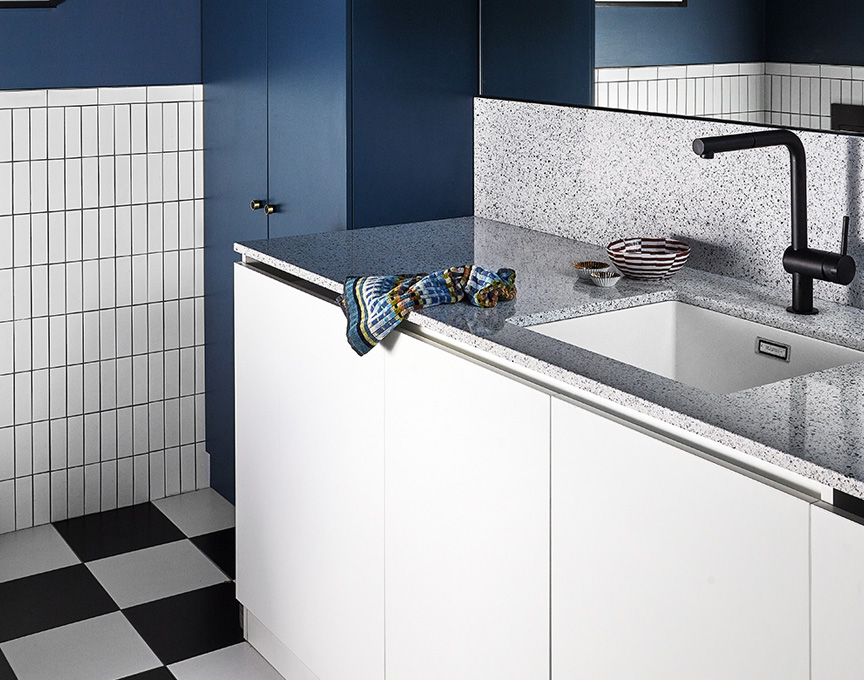 Contributors
Design: Sgrourakis Architects
Photography: Dave Kulesza