Minerals and Metallics: Authentic looks with flexibility of laminate

These Laminex decors give designers the freedom to bring complex ideas to life, with the look of stone, concrete and metallics, but much less hassle.
There's an undeniable appetite among architects and interior designers for materials that have a sense of authenticity, whether it's through a connection to the natural world, like natural stone, or an aesthetic expression of their production, like raw concrete or brushed metal. But in many projects, these materials just aren't an option, sometimes for technical design reasons, other times because they don't fit into the available budget. That's where the Mineral and Metallic laminates in the new Laminex Colour Collection come into their own – they recreate the look and feel of these materials with incredible realism, while offering far greater design flexibility.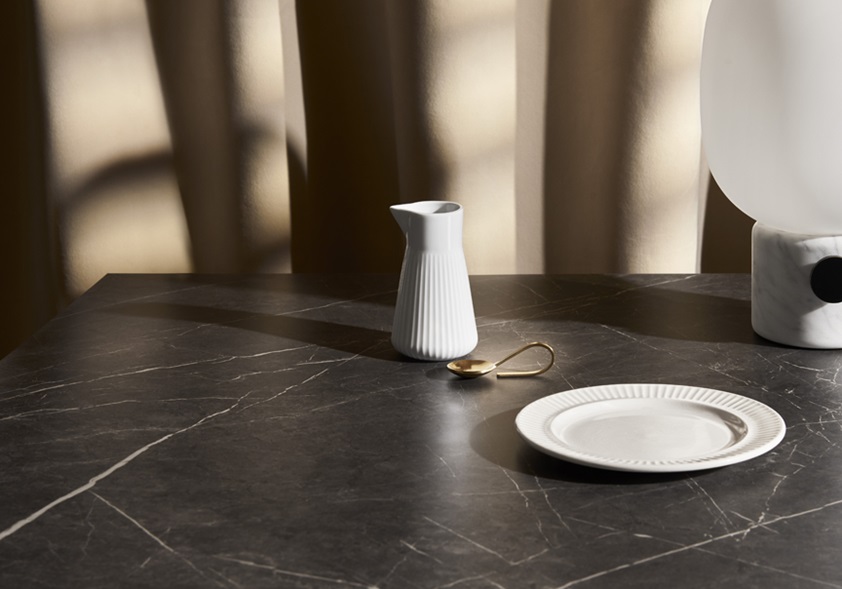 Achieving designs that wouldn't otherwise be possible
Marble, quartz and concrete look beautiful, but they can be very costly to work with, and their sheer weight limits how they can be used in interior design. However, this isn't a problem for high-quality laminates and, as Laminex Product Design Manager Neil Sookee points out, one recent project illustrates this very clearly.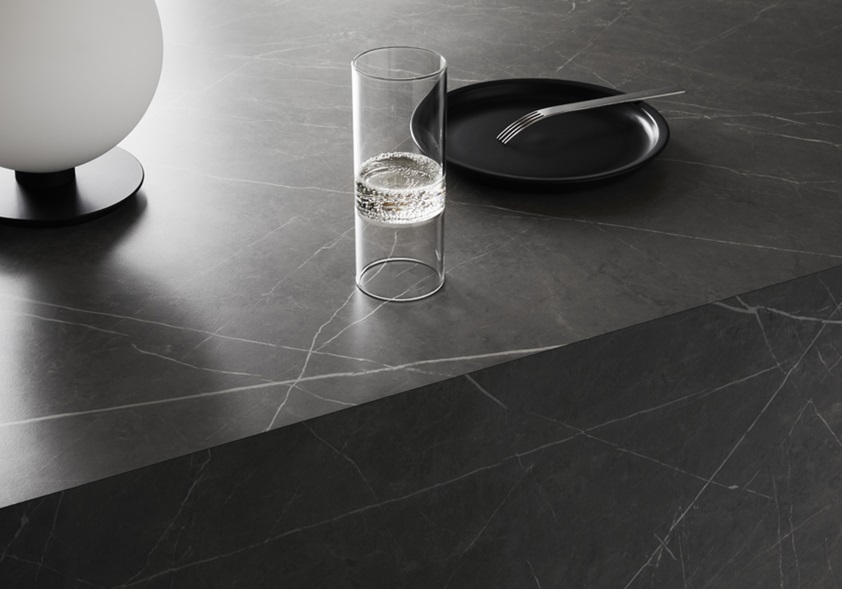 Melbourne-based designer Olivia Cirocco, from GIA Bathrooms & Kitchens, was engaged by Laminex to design two kitchens using decors from the Colour Collection. Her Minerals Kitchen features a monolithic island bench with a base clad in Laminex Brushed Brass and a cantilevered benchtop in black marble-look Laminex Nero Grafite. "The island bench is a fantastic example of the more interesting and dramatic designs you can achieve with laminate on a wood-based substrate," says Sookee. "From a technical perspective, you just couldn't do this with stone because it couldn't support itself. The process would be fraught with difficulty."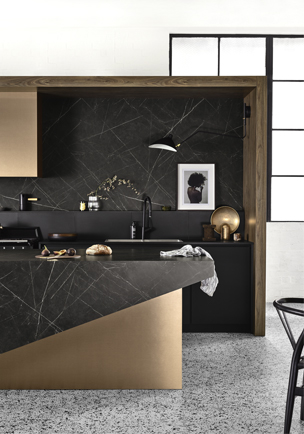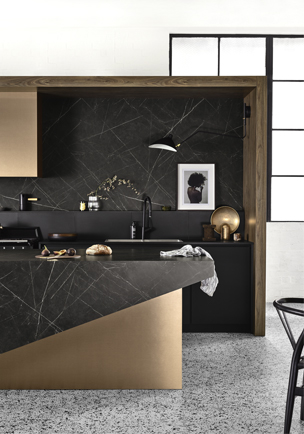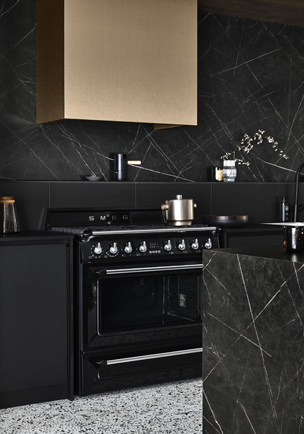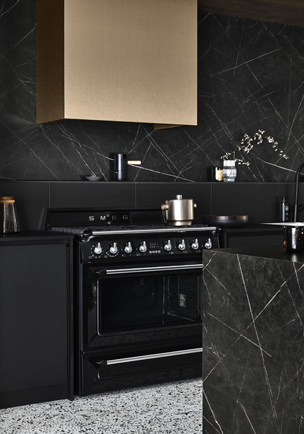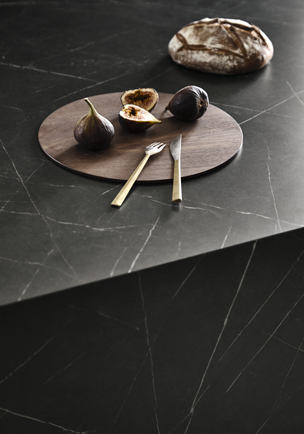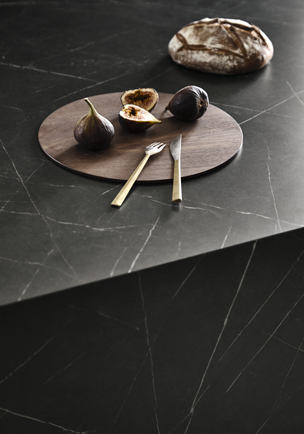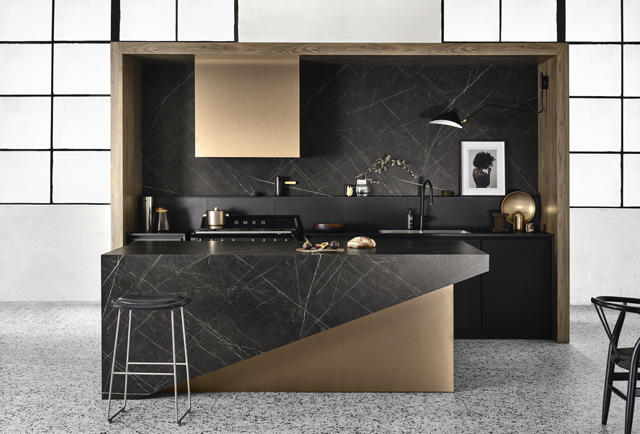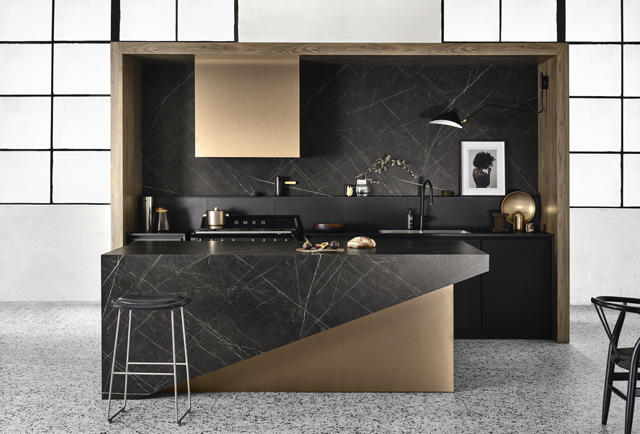 Island benchtop and feature wall panel: Laminex Nero Grafite. Island panel and rangehood: Laminex Brushed Bronze. Rear benchtop and cabinetry: Laminex AbsoluteMatte Black. Timber frame: Laminex Aged Walnut. Sink and tap: Oliveri Spectra Double Bowl Stainless and Vilo Pull Out Mixer. Smeg Victoria Cooker.

High-tech finishes with stunning realism
Of course, the effectiveness of these more dramatic designs depends on the realism of the laminate, and Laminex employs cutting-edge production technology to create surfaces that genuinely look and feel like the real thing. The Minerals range comprises three palettes – Veins, featuring marble-inspired decors; Aggregates, which offers the realism of quartz and natural stone; and Concretes, which includes polished and unrefined concrete looks. And each decor is derived from an actual surface. "The reason that a decor like Nero Grafite looks so true to life is that it's scanned from a real piece of stone. It's not just made up on a computer," Sookee explains. "And a decor like Elemental Ash is scanned from a real piece of concrete. Then, with digital engraving technology, we're able to get superb realism in the finished laminate."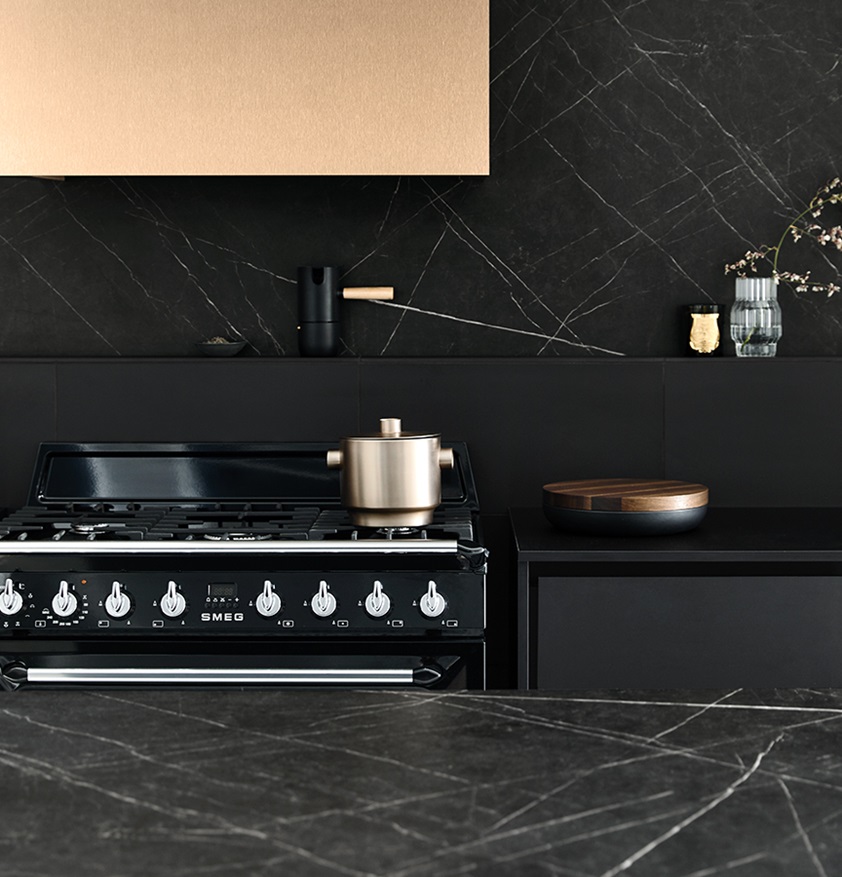 The Metallics achieve their authentic appearance through a quite different production process – popular new decors like Laminex Brushed Brass and Copper Brush are made using genuine metal foil. And Sookee is quick to point out the advantage they have over solid metal sheeting. "The big distinction is that while they have real metal foil surfaces, they are on a high-pressure laminate substrate, so it gives you the workability of a wood-based material and a lower cost than metal," he explains.
Visual continuity across different surface materials
The true-to-life appearance of the Minerals range offers another advantage to designers – direct matches between specific Laminex decors and engineered stone from the Essastone collection mean that they can achieve visual continuity across different surfaces and different applications in the same project. "Decors like Laminex Raw Zinc, Raw Nickel and Limed Concrete are based on engineered stones in our Essastone collection," says Sookee. "So if you want to maintain the continuity of look for engineered stone, you can create an island bench in the Essastone decor and the benchtop in the butler's pantry or laundry in the matching laminate. It allows you to shift your price scale while still getting the same look and feel."
So whether they're used on their own in this way, or brought together in different combinations as Olivia Cirocco has done with her sophisticated marble and brass palette, the versatility of these highly realistic Minerals and Metallics laminates is a significant asset for architects and designers.
To explore the Minerals range, click here. Or you can find more information about the Metallics range here.