The Australian-made Laminex Multipurpose Compact Laminate range has expanded to include a selection of decors in the Laminex Impressions finishes, Nuance and Chalk.
The hardwearing self-supporting laminate is commonly specified into public and leisure spaces, and for commercial furniture, and these new decor and finish combinations mean that the product can be used to achieve a beautifully textural look and feel.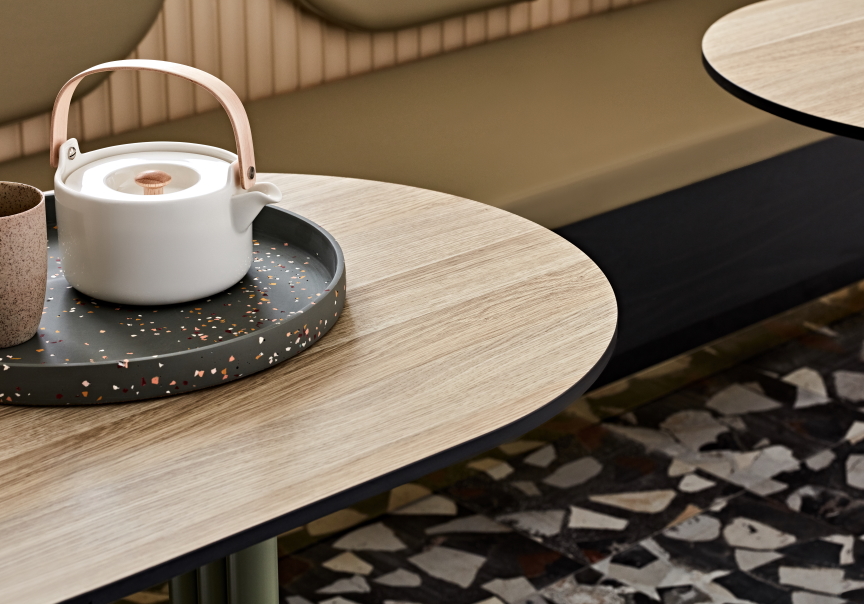 Laminex White, Black, Classic Oak, Lustrous Elm and Burnished Wood can now all be specified in Nuance finish, which recreates the look and feel of sandblasted woodgrain, while Seasoned Oak, Raw Birchply and Sublime Teak can be specified in Chalk finish, which has the texture of raw veneer. Importantly, all of these decor and finish combinations are also available in the Laminex Large Format Range, so the two products can be used together in commercial projects to achieve consistency of colour and texture across different surfaces.
Multipurpose Compact Laminate in Nuance Finish
Multipurpose Compact Laminate in Chalk Finish
Featured in this design
Table Tops: Laminex Multipurpose Compact Laminate, Classic Oak Nuance finish
Wall Panel: Laminex Large Format Commercial Panels in Black Birchply
Table Legs: Dulux Pale Eucalypt Matt finish
Flooring: National Tiles - Cocci Grafite Spaccatto Matt 300x300mm
Design and styling: Bree Leech
Photography: Mike Baker
Table Fabrication: KCA Furniture