In a new kitchen design for Laminex, interior designer and trend forecaster Bree Leech showcases the potential of designing with blocks of colour.
As we've noted here before, rich colour is making a welcome return to Australian interior design. "Designers are being adventurous and bold," says designer and trends forecaster Bree Leech, "and that's filtering through to our clients, who are also becoming increasingly colour confident." One way this is manifesting is in the use of block colour, particularly in kitchens and bathrooms. Where we might previously have seen varied materials palettes of stone, timber veneers, laminates and other textures, designers are choosing to use one colour across multiple surfaces, making that colour a feature and creating a strong sense of cohesion.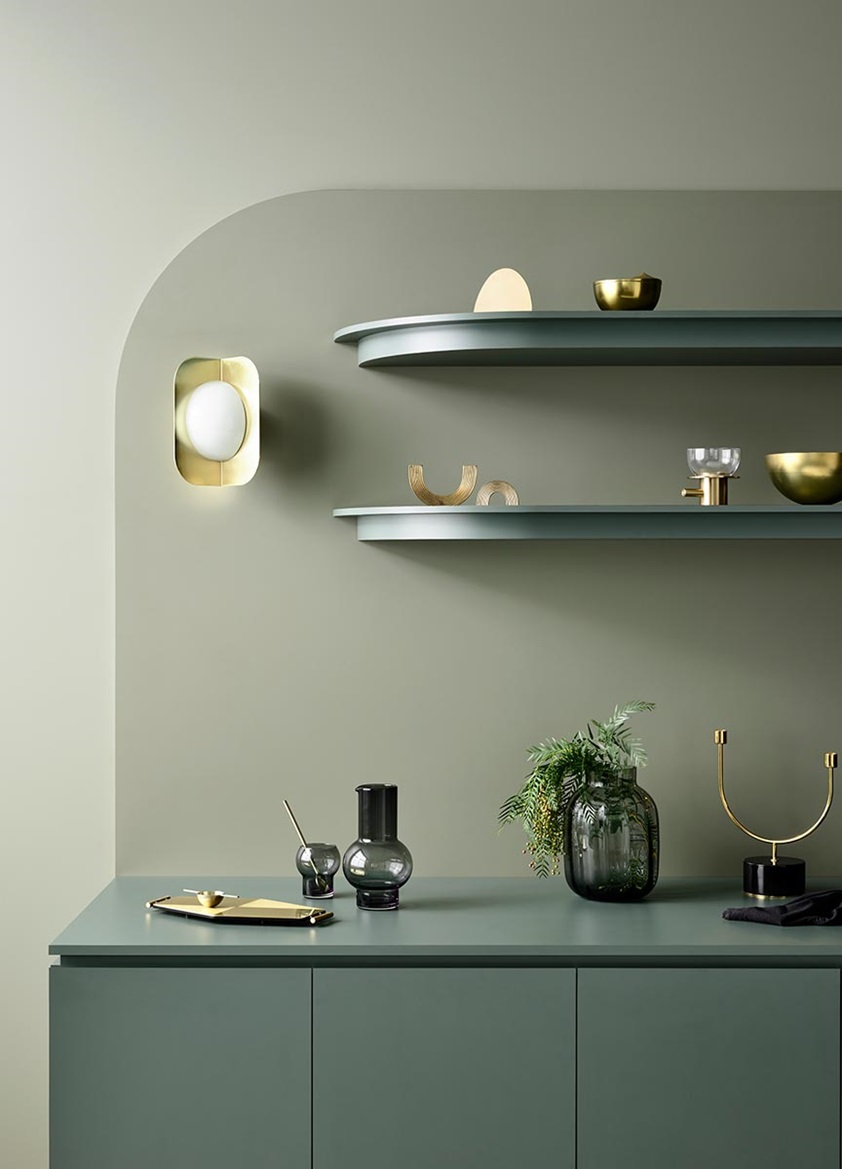 Drawing influence from the 1980s
The eighties revival appears to be one factor influencing the renewed interest in colour, and Leech points to the work of 1980s design movement Memphis, founded by Italian architect and designer Ettore Sottsass, as a key reference. The exuberant pieces produced during that time, with their bright blocks of colour, playful patterns and eccentric forms, marked a radical departure from the dominant styles of the seventies. And now a similar approach is being translated into contemporary interior design, albeit with a little more nuance.
Leech approaches colour blocking in a range of ways, sometimes choosing one colour and using it for everything, other times working to create graphic impact with contrasting colours in geometric shapes. Her new kitchen design for Laminex, featured here, follows a third strategy, with two complementary decors combined in an elegant tonal scheme.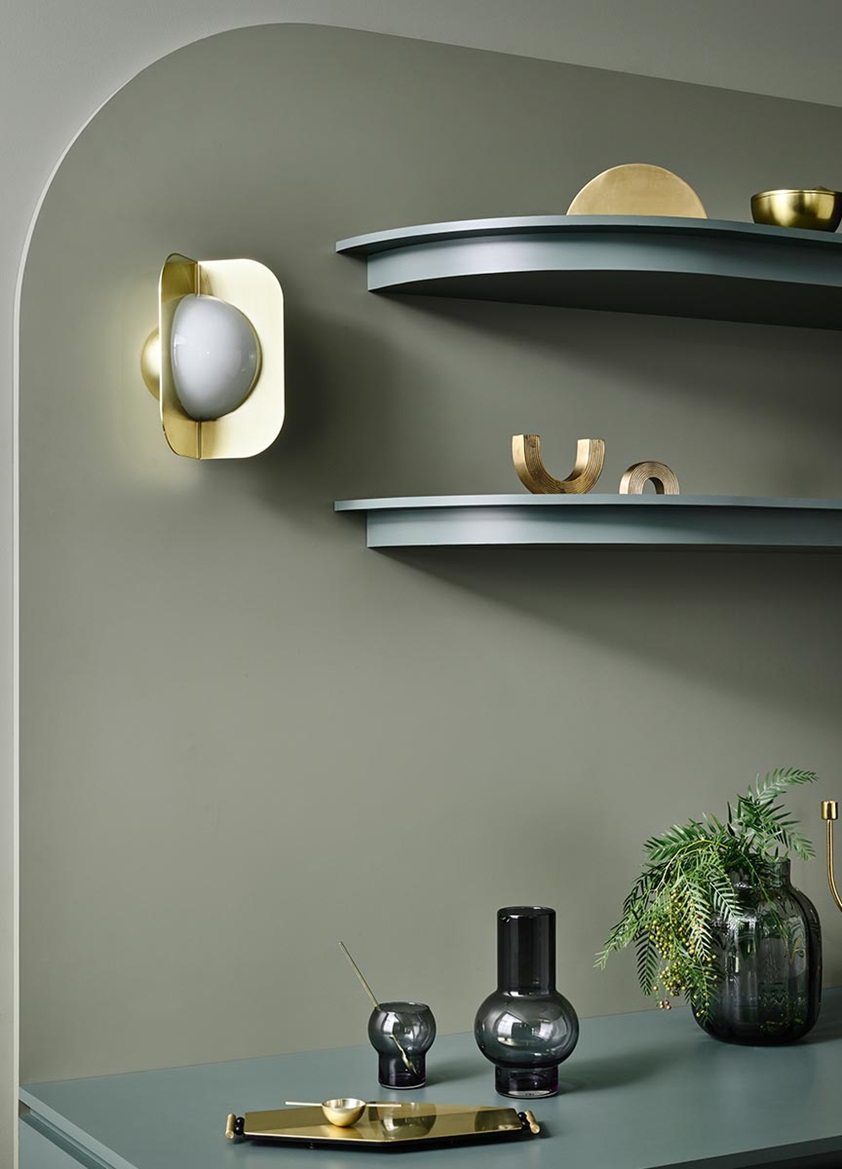 Making colour the hero
"We wanted to keep the form quite simple to emphasise the graphic lines, so the details are subtle," she says. There's a rectilinear bank of cabinetry, with doors in Reverse Bevelled profile for a handless design, curved wall panelling and curved open shelving. And colour is definitely the hero. By selecting Laminex Green Slate – "such a great, greyed-off green" – for the cabinetry, benchtops and shelving, and Possum for the wall panelling, Leech has distilled her colour palette down to two shades of green, accented only by a wall light cleverly crafted with Laminex Brushed Brass. It's a celebration of the two organic green decors, and it makes an emphatic design statement that shows how powerful block colour can be.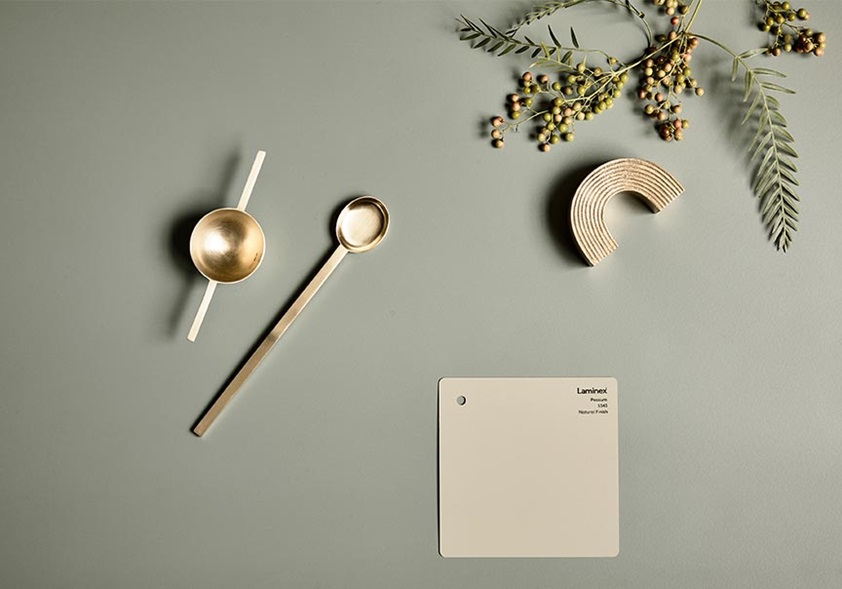 It also shows how easy it is to match colours across different Laminex products, with high-pressure laminate and decorated board specified for different elements in the kitchen. For Leech, who is used to designing with a diverse mix of materials, working exclusively with laminates was a refreshing, and valuable, challenge. "This is the first time I've worked with laminate for all the material in a kitchen, and I learnt things I hadn't thought of before," she says. "Laminex is perfect for colour blocking because there's such a great colour range."

Explore the Laminex Colour Collection and download the brochure, which contains all the decors you need to create beautiful block-colour spaces.
Photographer: Derek Swalwell