These five décor combinations offer on-trend inspiration for kitchen designers, cabinetmakers and fabricators, and their clients.
One of the biggest trends in kitchen design right now is to have interior cabinetry surfaces fabricated in a different colour to doors, drawer fronts and side panels. It adds a wonderful sense of individuality to a kitchen and can be used to create a wide range of effects.
The incredible array of colours and textures in the Laminex Colour Collection, across both high-pressure laminate (HPL) and coloured board products, makes Laminex laminate just perfect for realising these designs. So we've gathered together five great examples that will inspire kitchen designers, cabinetmakers and fabricators, and help in getting their clients excited about the possibilities.
Timeless black and white
It's arguably the classic kitchen colour combination, but instead of black-and-white check floor tiles, this modern treatment uses Laminex Calm White for tall cabinetry doors and Laminex Black for interior cabinetry. The effect is to create a bright, minimalist kitchen zone with storage areas that add a sense of depth and shadow. It's very clean, very contemporary and very stylish.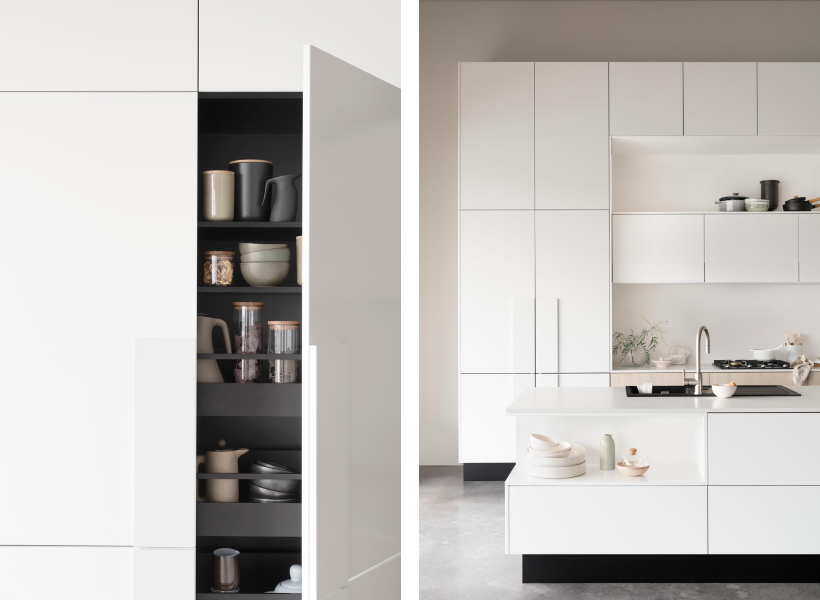 Sophisticated black and woodgrain
Another view of the previous kitchen shows that the black cabinetry interiors continue in the adjacent under-bench storage. However, to create a sense of warmth and connection to nature, and to introduce a new textural element, the drawer fronts use Laminex Seasoned Oak. When the drawers are open, their black interiors bring out the darker tones in the woodgrain decor, while creating consistency through the space.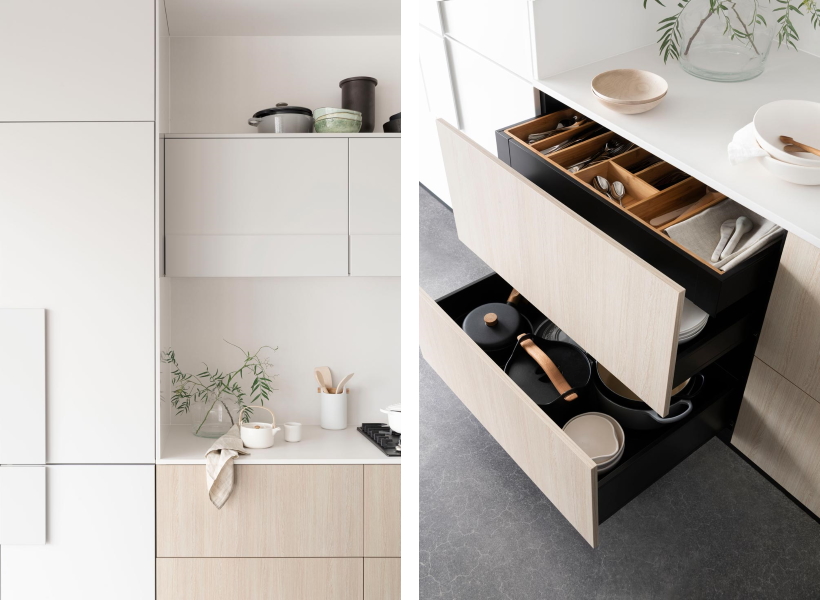 Natural tones and woodgrains
This kitchen by designer Bree Leech shows how coloured interior surfaces can make joinery feel more like handcrafted custom furniture, particularly when a highly authentic Laminex Woodgrains decor is used. In this case, it's the subtle grain structure of Laminex Seasoned Oak, applied to the benchtop and inside the drawers, with creamy Laminex AbsoluteMatte Surf on the drawer fronts and doors.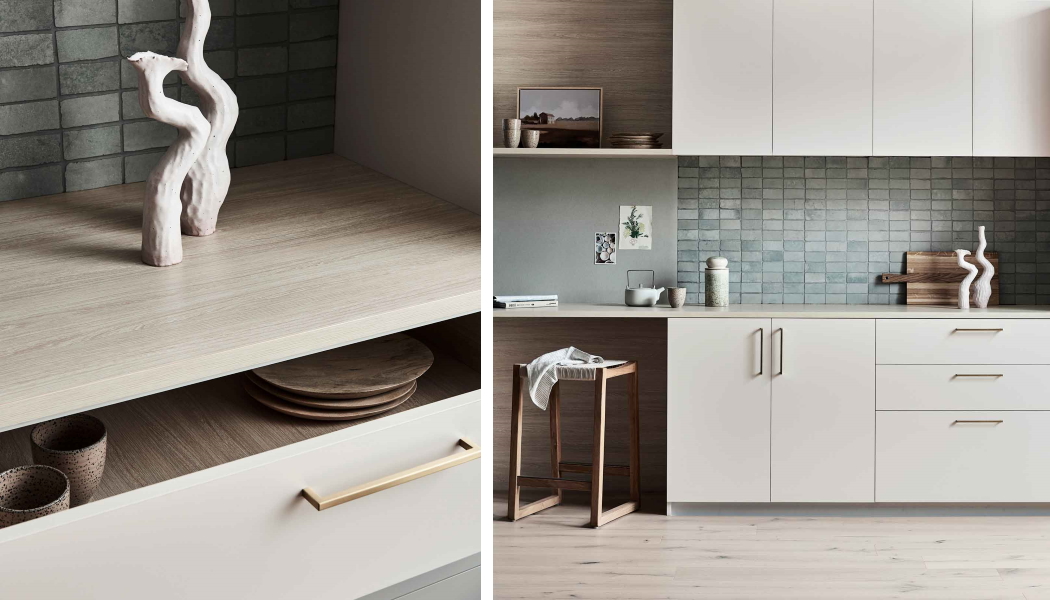 Warm green and black
Another fantastic design by Bree Leech, this kitchen brings together Laminex AbsoluteMatte Black, warm green AbsoluteMatte Green Slate and geometrical splashback tiles in a bold and slightly retro colour combination. It's given a very contemporary edge, however, thanks to the light-absorbing, fingerprint-resistant finish of AbsoluteMatte, while the Laminex Black drawer interior makes it the epitome of modern cool.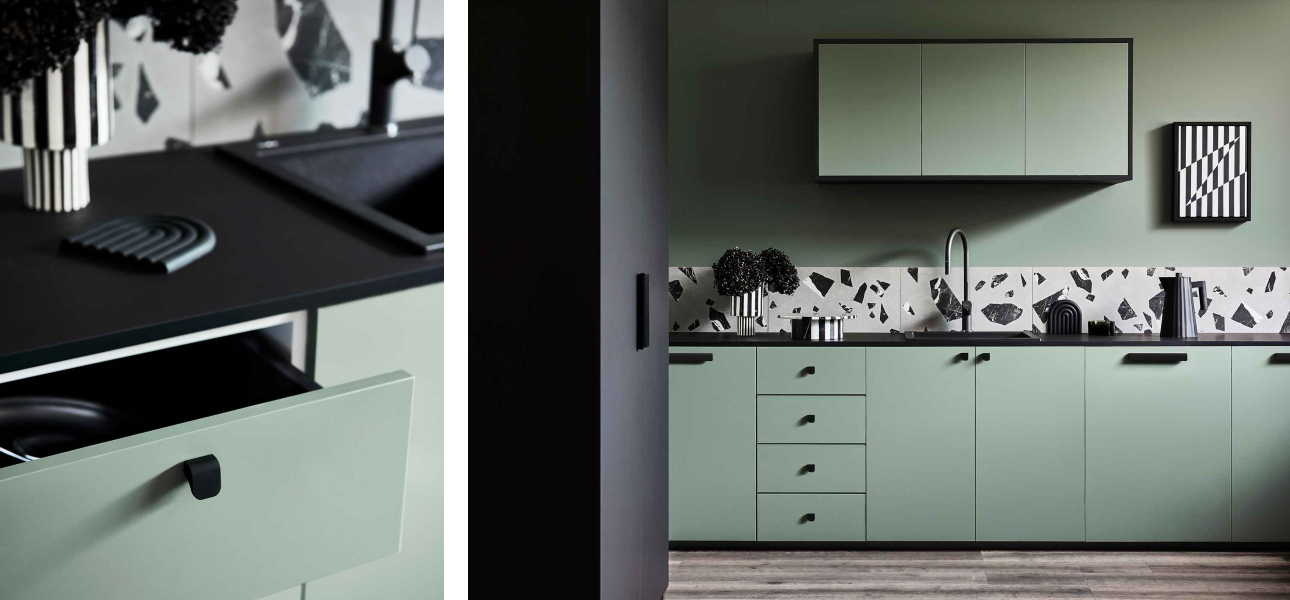 Rich colour and a flash of red
From Laminex's recent collaboration with renowned architects Kennedy Nolan, the Studio Kitchen was designed with a sophisticated palette of classic deep blue Laminex AbsoluteMatte French Navy, AbsoluteMatte Green Slate and rustic terracotta tiles. But a surprise awaits in the cutlery drawer, where an interior of Laminex Pillarbox reveals an unexpected flash of brilliant red.