The overnight success of Brisbane-based Graya Construction was many years in the making, explains director Rob Gray.
Young, ambitious brothers Rob and Andrew Gray have been making a splash in the property scene in Brisbane ever since Rob set up Graya Construction in 2013. From small beginnings, the company has grown quickly as the two men combined a savvy business model with a commitment to delivering high-quality design in collaboration with architects, contractors and suppliers.
Rob Gray always had a plan. He researched the Brisbane residential market for several years, analysing houses bought and sold and identifying a long list of features and qualities that would appeal to discerning buyers. "I set up my own company a year after completing my carpentry apprenticeship, but I'd been planning the business for a very long time," he says. "Over the years I looked at all different spaces of business – development, marketing, a range of industries. I looked for mentors. I sought advice. I watched what people did in different industries and tried to apply that to construction."
Taking the hard work out of building a home
Gray's quantity surveyor brother joined the business, and together they identified a gap in the Brisbane market for modern, high-end, ready-to-move-into houses that removed the design-and-build stress from the buyer. "We knew there would be people who would want a brand new, architecturally designed home, but they wouldn't want to go through the two years of pain of getting planning approval, dealing with the builder and having all this out-of-hours work and stress on the family," Gray explains. "We solved that problem. We design and build homes and put them straight on the market, brand new with a warranty. A lot of time-poor professionals jumped at the idea, and that really helped our success."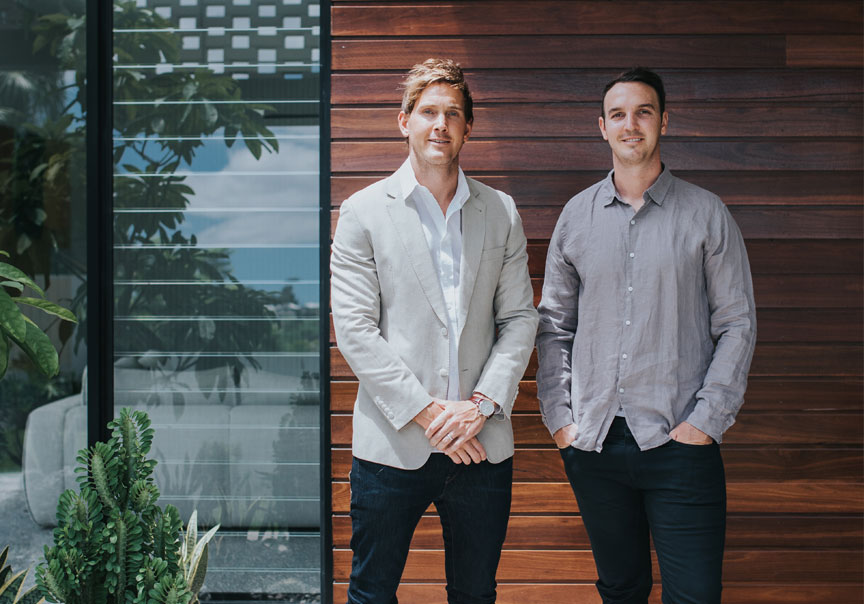 Gray has had a longstanding interest in and appreciation for quality design. At school he studied graphics and learnt about architecture, and today he maintains ongoing professional relationships with several well-known architects in Brisbane. "There are a number of architects we keep going back to time and time again because they're just the best at what they do," he says. "These are long-term professional relationships that are really collaborative. We work closely together and know what each other wants and expects."
This philosophy extends to subcontractors and suppliers too. "We try to find people who are likeminded and really have a passion for building something unique. If they don't, they'll get frustrated really easily or they'll give up. You have to find those people who love a challenge and are really passionate about what they do."
Specifying high-quality materials to match their designs
Committed to building one-off homes that epitomise luxury and style, Graya's projects are typified by the creative use of high-quality materials. Their recent Thomas Street house , delivered with architect Joe Adsett and interior designer Karen Kunst, is a good example. Several Laminex decors, including Elegant Oak and French Navy, feature prominently in the design.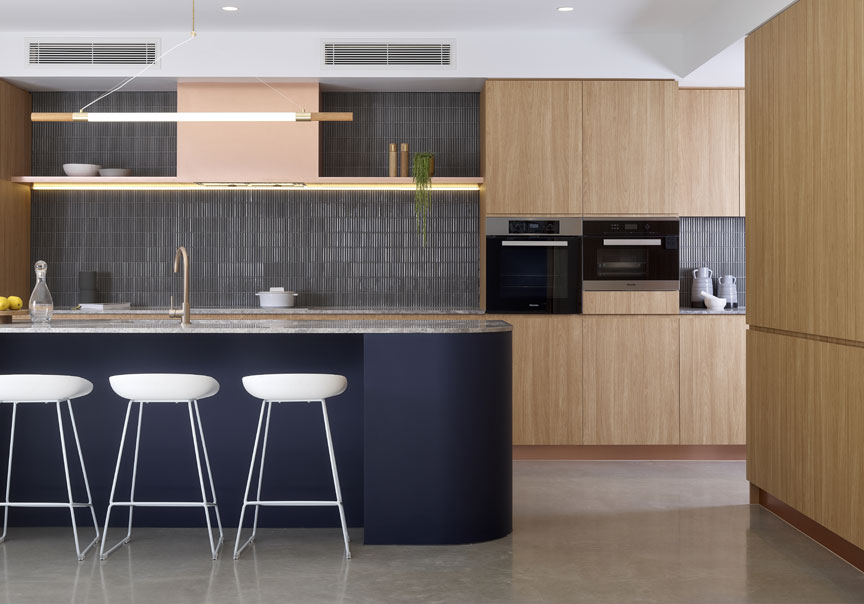 "In all residential projects, joinery has high visible impact, and choosing the right product is one of the most crucial internal design decisions. The blondish timber tones and curves we used in Thomas Street are really trending right now. We've also gone with some bold colours, such as deep blue, which really give the interiors a fresh pop," says Gray. "Usually, we would get those pops of colour through our furniture choices but we built them into this house, which is exciting. We were also able to curve the Laminex product for the island bench in the kitchen, which is pretty cool!"
Today, Graya Constructions has a permanent staff of 30 and builds around eight residential projects a year. In 2020, the company will dip its toe into the multi-residential sector, building its first block of units, again working with architect Joe Adsett. "It's a goal we've had for the last five years. It's really exciting," says Gray. True to form, the plan continues to unfold.