Shiplap panelling has long been favoured by designers seeking to create a Hamptons beach house interior style, and Laminex's Country V profile cabinetry doors deliver that look beautifully. But thanks to their minimal styling, with grooves running the height of the panels and no borders or framing, the doors sit perfectly in contemporary spaces too.
Colours and finishes for different interior styles
The linear effect of the Country V profile puts a contemporary twist on the classic shiplap look, so it can work across many different interior styles. For example, combining this door in a white decor with a soft-veined stone benchtop will create a classic look, while using the same profile in a darker saturated colour will bring a more urban, modern feel.
To support this versatility,the profile is now available as part of both the Laminex FormWrap andColourTech ranges, in an extensive selection of decors - 16 for FormWrap and 71for ColourTech. These range from Laminex Polar White, through neutrals likeGhostgum and Oyster Grey, to warm charcoal Battalion and classic blue FrenchNavy, in a choice of finishes.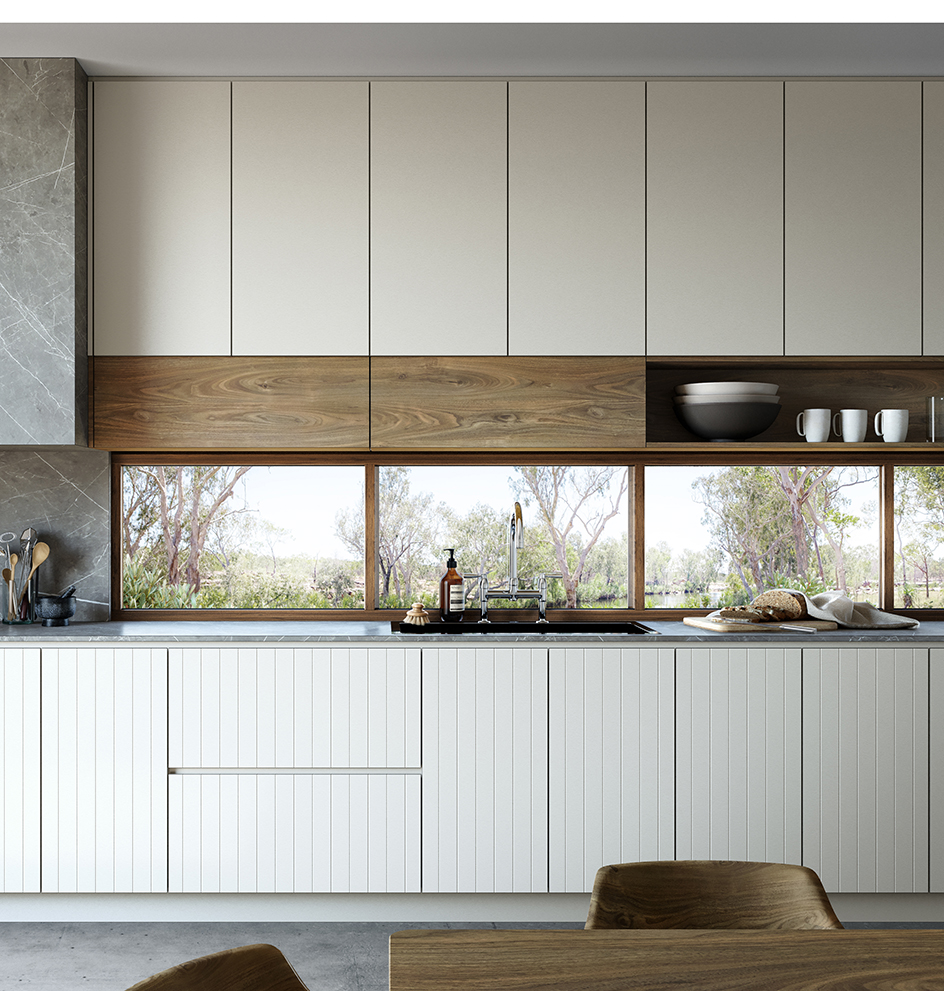 Creating a seamless look for wet areas
Country V profile doors are made from moisture-resistant MDF well suited to kitchens, bathrooms and laundries and, depending on which range they're specified from, are finished in one of two ways - FormWrap Country V doors are wrapped in a luxurious outer layer of thermoformable vinyl foil, while ColourTech Country V doors are coated in a technologically advanced 2 Pac polyurethane paint for a premium look.
Both options are visually seamless, hard-wearing and easy to clean. Teaming them with decorated board in matching Laminex decors, for applications such as kickers, fridge panels and oven surrounds, makes for an integrated interior style that's beautiful, durable and cost effective.
To learn more about the Laminex Made-To-Measure Doors and Panels range, click here.