Gather some creative ammunition from these beautifully designed kitchens, which put a contemporary spin on the ever-popular coastal interior style.
It makes sense that coastal-style interiors are so popular, because when they're well designed, they instantly create those breezy feelings of being near the beach. And while the style can sometimes have a rustic edge, these three kitchens show how kitchen designers and fabricators can introduce the look into contemporary homes, with calming combinations of whites, pale timbers and soft neutral tones.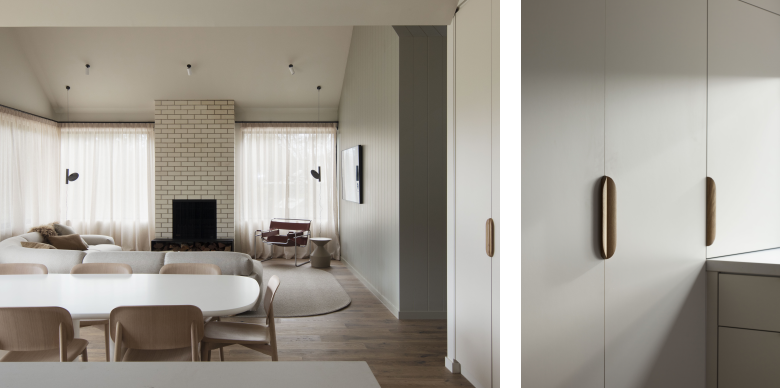 Eucalyptus tones and the texture of natural stone
Muted organic green tones have emerged as a strong colour trend in recent years, not only because they look beautiful, but because they provide a sense of connection to the natural world. That makes them an excellent fit for coastal interiors, particularly in lighter shades, such as the delicate, earthy green-grey of Laminex Seed. Applied to cabinetry and panelling across the front of the island bench, Seed's eucalyptus tones make a natural pairing with timber flooring and furniture. But then, showing that coastal interiors can easily accommodate a more luxe aesthetic, marble-look Essastone Marmo Bianco has been used for chunky benchtops and the sides of the island bench. This decor was chosen for its ivory base, which has a warmth of tone that allows it to sit comfortably with the timber and earthy green cabinetry.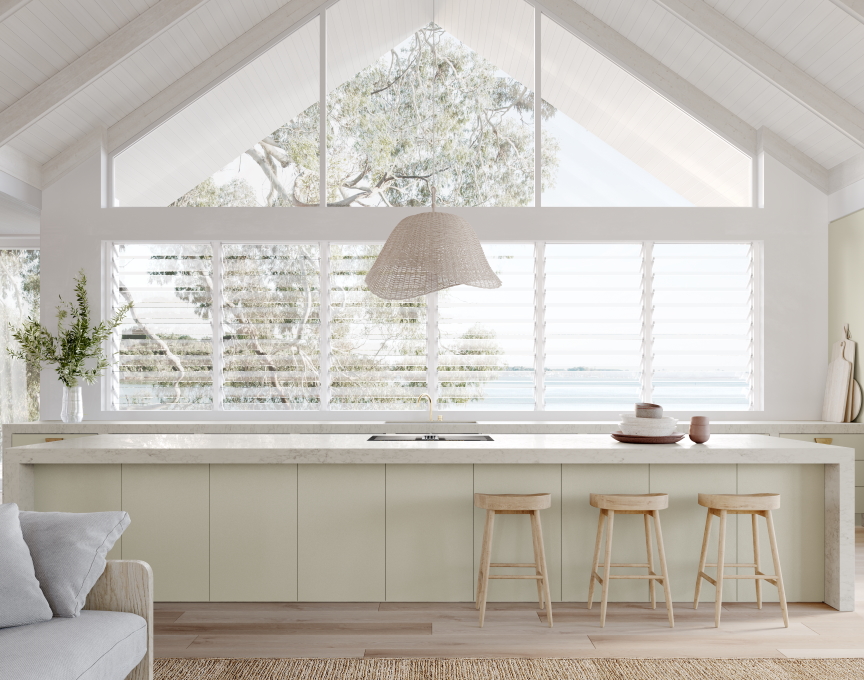 Refined natural textures and subtle shifts in colour
A hallmark of a truly relaxing contemporary coastal interior is an emphasis on subtle shifts in colour and texture, and avoidance of stark contrasts. You can see that here, in the choice of Laminex Waxed Maple for overhead cabinetry and Carrara Bianco for the island bench. There's a consistency between the clean woodgrain and soft linear marbling in terms of both their scale and their level of refinement. The rear benchtop and splashback feature Essastone Ash Concrete, its smooth grey concrete colouring picking up the warm grey veining of the Carrara Bianco and the darker tones in the Waxed Maple's grain. And then Laminex Chalk White is used for tower cabinetry, the warm white decor providing the perfect soft base for highlighting the woodgrain and marble textures.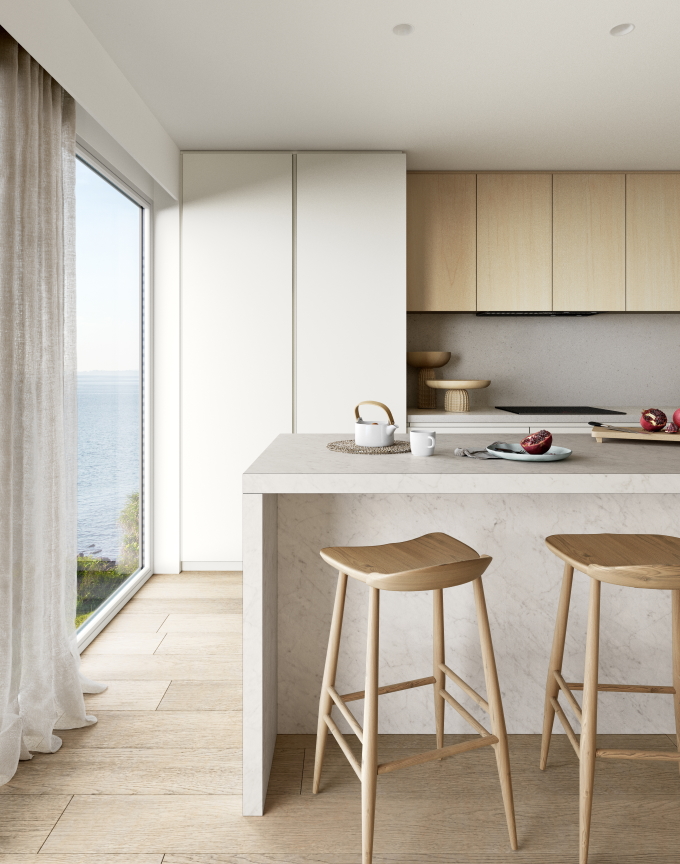 The Zen-like ambience of a tonal interior
This kitchen, in the open-plan living area of a holiday home designed by CJH Studio, is a masterclass in keeping a colour palette within a narrow tonal range, to create what's sometimes described as a "tonal interior". The feature laminate decor is Formica Flaxon, and a similar effect could be achieved with Laminex Raw Cotton or Laminex Pumice. It's used on the front of the island bench, base cabinetry and kicker, with a rangehood cover, wall finishes and a flowing curtain across the sliding glass door all specified in similarly warm, slightly earthy colours. With the soft natural light filtered through the curtain, and accompanying soft timber tones, it creates a kitchen with a Zen-like ambience. To gather more inspiration from this project, you can read our full story here.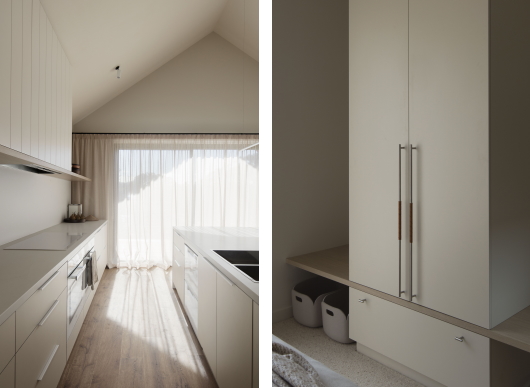 Featured in the Seed Kitchen
Kitchen Cabinetry & Front of Island: Laminex Seed
Kitchen Benchtop: Essastone Marmo Bianco
Featured in the Chalk White & Waxed Maple Kitchen
Overhead Cabinetry: Laminex Waxed Maple
Tower Cabinetry: Laminex Chalk White
Benchtop: Laminex Carrara Bianco
Read Benchtop & Splashback: Essastone Ash Concrete
Featured in the Tranquil Retreat by CJH Studio
Island front, base cabinetry & kicker: Formica Flaxon
Design: CJH Studio
Photography: Ben Hosking