Laminex has launched two decors that capture the continuing design movement towards terrazzo... and reduce waste at the same time.
Everywhere we look it seems terrazzo is there: in large-format flooring, wall panelling, tiling and benchtops; even in coffee tables and side tables. For Laminex Design Marketing Manager Catherine Valente, a key reason for terrazzo's resurgence is that, across the board in interior design, "colour is back".
So those subtle pops of colour that come with the aggregate in terrazzo are a perfect match for contemporary interiors. To help architects and designers achieve that look in an even broader range of applications, Laminex has launched two new decors, Tinted Paper Terrazzo and Tonal Paper Terrazzo, and they're made with recycled paper.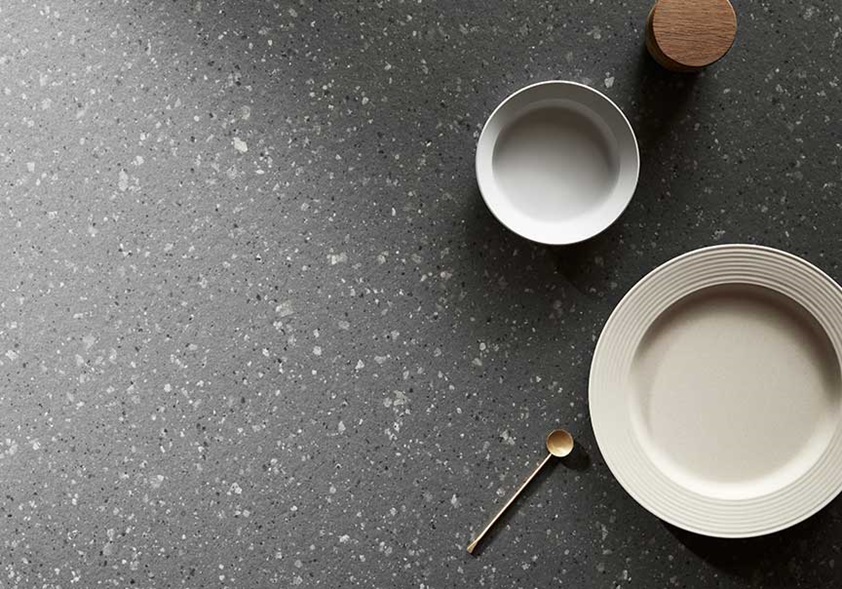 Minimum waste, small-batch craft production
The new decors arose from a simple question at Laminex: "What can we do that's more responsible with the way we're using materials?" And a design-led response: "We can increase the use of recycled content in products." The link between this idea, the prevalence of paper in laminate production and the creation of terrazzo decors was irresistible – instead of scattered stone chips, the "aggregate" in the new Laminex decors is formed by scraps of post-production paper that would otherwise have gone to waste. "It was about taking inspiration from the idea of terrazzo, as both a material and a concept," says Laminex Product Design Manager Neil Sookee. Students of design history might also appreciate the connection to the mosaic workers of sixteenth-century Venice, who used discarded marble chips to create terraces!
The two decors are manufactured using small-batch craft production, from 30 per cent reclaimed material, and unlike the highly designed, infinitely replicable printing process associated with other laminates, here each sheet is unique. The large fragments of paper distributed across the sheet make some areas thicker than others, and when the sheets are pressed together, the variations in thickness are felt in the finished laminate. The result is an honest expression of both the material and the process, says Sookee. "We've kept that process honest by letting the paper make its own texture", he adds. "You get this wonderful undulating texture that has a raw, unrefined feel about it."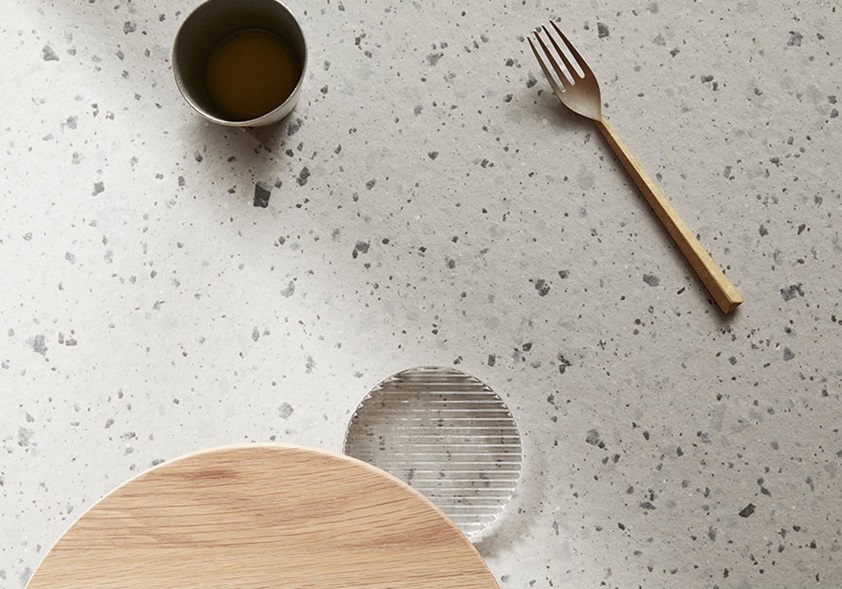 Coloured to match contemporary interior design movements
Laminex Tinted Paper Terrazzo features grey and cream paper fragments dispersed across a pale, warm-grey base, while Tonal Paper Terrazzo includes dark and light grey particles over a cool, mid-grey base. These specific colourings are intentionally aligned with contemporary movements in Australian interior design. "The continued rise of the biophilic movement means that we're going to be seeing more greens and plants indoors, and putting greens against light-coloured terrazzos creates a sense of freshness and increased vibrancy," explains Valente. "At the same time, feminine tones are key this year, and soft grey terrazzos work beautifully with rose pink or blush walls or cabinetry for a luxurious modern look."
The two decors combine the appearance of terrazzo with all of the design versatility and performance characteristics of premium high-pressure laminate, and both are available with the textured, organic feel of Laminex's Paper finish.
Tinted Paper Terrazzo and Tonal Paper Terrazzo designs won Best of the Year in the Green Innovation category from InteriorDesign magazine.