The Queanbeyan-based kitchen fabricator, one of the first people to hold a trade account with Laminex, shares stories from six wonderful decades of work and life.

Trade exhibitions provide great opportunities for the Laminex team to hear firsthand stories from the people using their products. But at AWISA 2018, the annual showcase event for the woodworking industry, the team got a real treat when John Sirola, founder of kitchen fabrication business John Sirola & Co., dropped by to share stories from almost sixty years in the industry. John was one of the first people to hold a trade account with Laminex, and what he doesn't know about laminates, and cabinetry in general, isn't worth knowing!

"I started my business in 1966. I'd been working at IPC Joinery for five years and then in '66, when the dollar came in, I decided to go out on my own," John recalls. "I rented a shop in Fyshwick and while I was there I was building my shop in Queanbeyan. I moved in '69 and have been here ever since."

In the beginning, John provided a broad range of services – "doors, windows, kitchens, wardrobes, vanities, you name it" – but over the years, he came to specialise in custom-designed kitchens. And as the business grew, John was able to nurture plenty of young local talent. "I've had 26 apprentices in my lifetime. Quite a few of them are our opposition now," he laughs, "but that's okay, it's no problem!"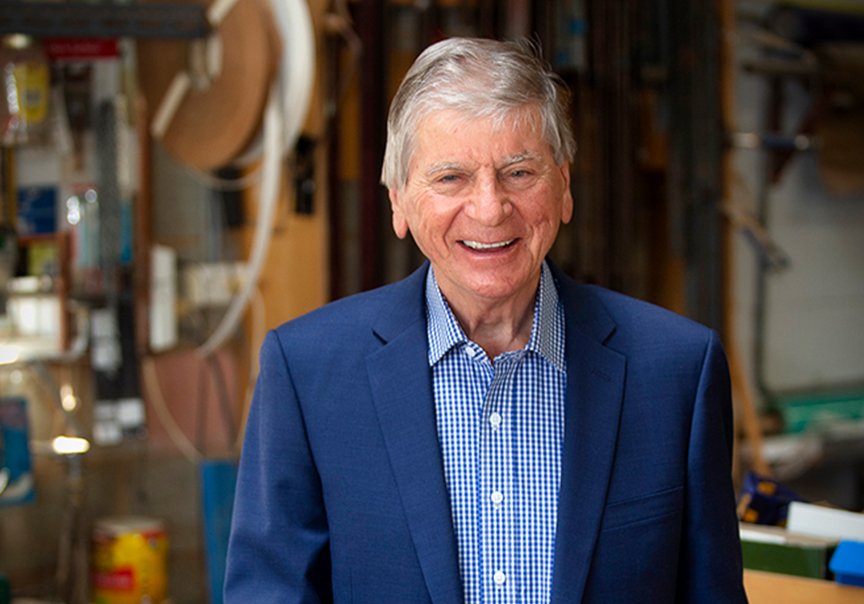 One of those young protégés, however, now plays a key role in the business. John's son, Dennis, returned from interstate a decade ago to take on day-to-day management duties. "I keep an eye here and there but he does a good job so I'm happy with that," says John. Dennis has continued his dad's longstanding loyalty to Laminex, while updating the business to meet consumer demand. "To keep up with trends in kitchen design, I get a lot of the kitchen design magazines and of course Laminex is at the forefront of those," he says. "I think we're starting to see a resurgence in laminates, because of the array of colours and the more lifelike timbers. I'm glad to see it. I send a lot of our clients to the Laminex showroom here so they can choose their colours and I can build what they need."

The contemporary palettes John Sirola & Co. work with today are a far cry from the colour schemes John describes from the sixties and seventies. "The kitchens used to be crazy colours! In the early days, I built six kitchens for the one builder," he recalls. "I put two kitchens in at a time and when I put the second lot in, I went to have a look at what they did with the first. Each door of the kitchen was a different colour! Yellow, blue, green, you name it! And every wall was a different colour!"

The way that kitchens are designed has changed a great deal, too. While Dennis works up his kitchen ideas on a computer, John only ever designed by hand. "I'd go to the house, measure the walls, put it down on paper and then I'd sketch the kitchen in front of them in about twenty minutes," he says. "I'd show them exactly how the kitchen's going to look. Not just the plan, the top, the bottom - everything."

But for all that's changed over the years, two things remain the same: the Sirola family's commitment to building kitchens that last, and their strong connection to Laminex. John talks proudly of his "four kids, eight grandchildren and four great grandchildren, with more on the way". Perhaps if we check in again in another few decades, it'll be one of them telling us about John Sirola & Co.'s latest Laminex kitchen!
---