White is white, right? Well – not quite. We show you how to choose the shade that will work best in your space.
"If you get your whites wrong, it can be really noticeable," warns Laminex Design Marketing Manager Catherine Valente. "There are so many factors at play when choosing your palette. But like anything, it's simple once you know how," she explains. "There really is a perfect white for every job, whether it's the hero in a space, or used a base to bring other textures and colours to life."
The Laminex White Series is a collection of 12 superb whites, all carefully selected for their distinctive characteristics. Here, colour guru Catherine Valente shares her top tips for creating white interiors
It's All About That Base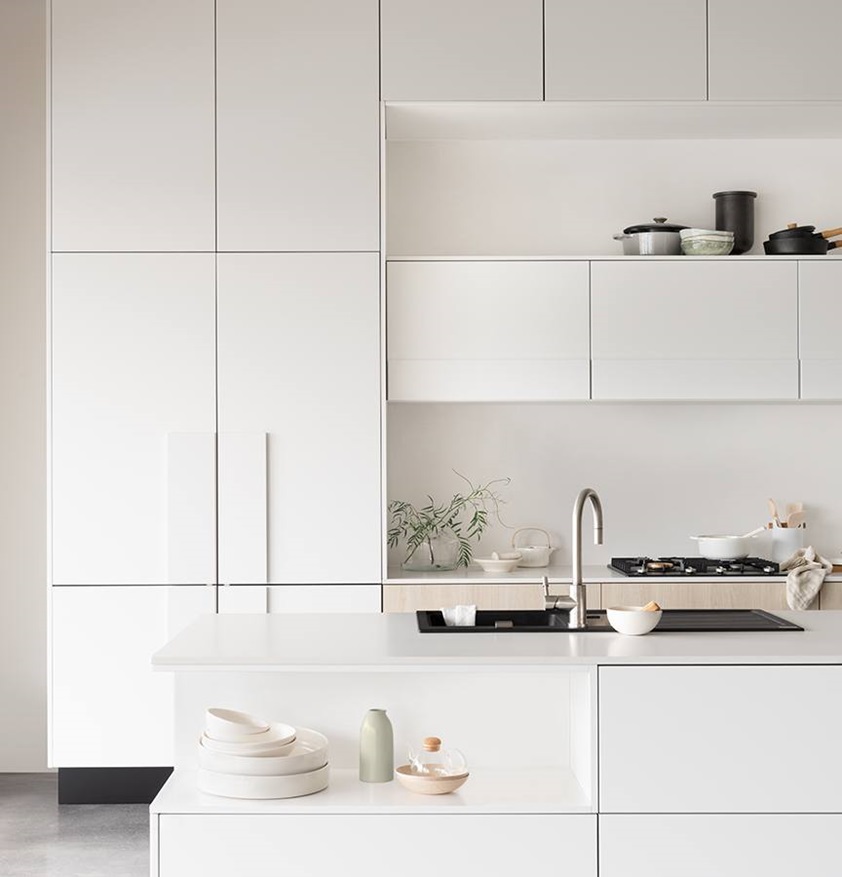 The core element of white's true character is its base tone. This refers to the shade that's been applied in its production. Yellow tinted undertones create warmer whites and grey or blue undertones will produce a cool white. "You need to be clear about what a white's base tone is, because that will tell you what colours and materials to pair with it," explains Valente. "And it works the other way too, so if you've already chosen a benchtop, you should then look for white cabinetry with an undertone that complements the benchtop colour."
Mixing Colours
Understanding undertones is important when combining different shades. Warm tones work best with other warm tones, and cool with cool. Multiple shades of white too, can be beautifully combined within a space. As long as two whites – or more – share the same undertone, they'll work together to create subtle yet sophisticated shifts of colour throughout
Mixing Textures
An all white interior delivers a refined elegance to your project, and can also bring strong visual interest and appeal. Apart from mixing neutral shades, another great way to create a stunning, all-white interior is to play with texture. Taking the same shade of white but applying it to a range of surfaces in different finishes – think gloss, matte or satin – will help create a fresh, engaging space.
Get the light right
Lighting is really important to consider when selecting a white. To achieve the most truthful representation of your white, LED or open, natural light work best. And it's also crucial to understand how your space changes during the day. "When choosing a white, see how it looks in the morning, at midday or in early afternoon light, and also at night, under artificial light," shares Valente. "This process will let you see the full range of the colourway."
So Which Should I Choose?
The Laminex White Series is a collection of twelve white decors created in a broad range of tones from cool to warm. Three new whites were recently added to the series.
Let us introduce you:
Laminex Calm White – a clean, neutral base with slightly warm undertones . Works best – in contemporary spaces or within a fresh, classic style palette
Laminex Chalk White – a soft, clean base with mild warm vanilla tinted undertones. Works best – as a seamless, all-over colour in large spaces
Laminex White Linen –a warm and creamy pale neutral with rich, yellow undertones. Works best – within classic colour schemes