Fireguard Décor
Classic Oak
Nuance
Laminex Fireguard Décor is an Australian Made, Group 2 fire rated Moisture Resistant, Medium Density Fibreboard bonded on both sides with a hardwearing melamine surface. With excellent fire retardant and machining properties and a practical Grey Core, Fireguard Décor is ideally suited for wall or ceiling applications.
Are you a Laminex Trade customer?
Login to your account to see pricing, availability and make purchases online.
Order sample
Don't forget finishes and colours can look drastically different when used in different settings. To be sure,view a sample in person with the intended lighting
Order sample

Laminex
Colour Code: 8537
Laminex
Colour Code: 8537
You can order a maximum of free samples in a single order.
$0.00 ex GST and Shipping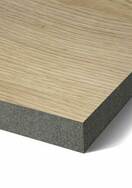 Laminex
Laminex Classic Oak Nuance Fireguard Decor
COLOUR CODE: 8537
Please be aware that once your order is placed, orders can only be changed or updated via the Customer Service team by phone at 132 136 or via online chat.
Please select your delivery method.
Important note: Only 1 delivery method or address can be selected per order. The delivery method and/or address you select will be applied to all products in your cart, please be aware that changing your delivery method/address may change the availability dates of the products already in your cart.