Stylist Nat Turnbull and her partner Sam Wong, along with Hazel the dog, have put the finishing touches to their amazing renovations of their inner-north Melbourne home.
Nat Turnbull is a singular creative talent. Her work can be seen on billboards and double page spreads the world over. Closer to art, her style is sculptural and kinetic, her ethereal landscapes and installations for Laminex showcased the product's flexibility and colour palette in ways we'd never seen before.
So, what to do, when a friend of Laminex and a stylist extraordinaire decides that it's time to renovate her home? There was little doubt that we wanted to be a part of the project.
"We love seeing how architects and designers interpret the use of our product. They often use it ways we could never have imagined," says Rachel Oxley, Laminex Brand and Experience Manager.
Echoing that sentiment, Turnbull worked with architect Adriana Hanna to illuminate her tastes and style to create a functional home that is everything one might expect of a creative like Turnbull; surprising, left of centre, considered and effortless.
Laminex was specified throughout, but it's in the kitchen where the practical and aesthetic qualities simultaneously come to shine. Durable and practical, the benefits of scratch, stain and water resistance are obvious, it's in the execution that Laminex loves to see the potential realised. Using Laminex Peruvian Clay, the routed arcs in the cabinetry speak to the flexibility and adaptability to design challenges and requests, while proving an equal match to Hanna's sculptural details throughout. They add to and soften, reminding the viewer of Turnbull's energetic work, constantly in movement, yet frozen in time.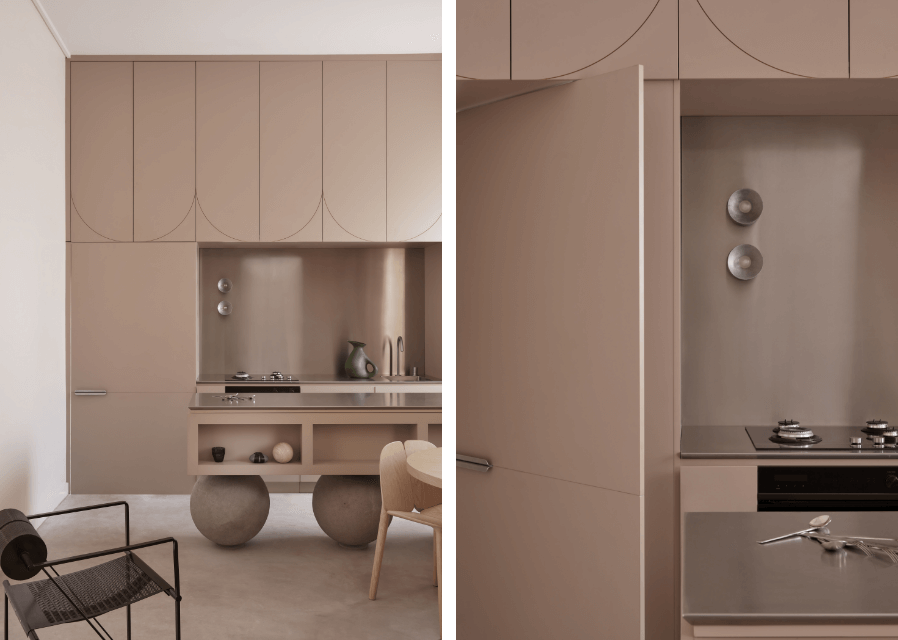 Throughout Hazel House - the name given for the project and of the couple's dog - sculptural shapes abound, reflecting architect Hanna's love of Tadao Ando and Donald Judd, but there's plenty of Turnbull in the sculptural table and spherical concrete plinths of the kitchen island- a remarkable inclusion that gives the space substance, but doesn't overwhelm, fitting somewhere between Roman antiquity and mid-eighties Sotsass.
"I do think she's taken a bit of reference, and she's told me this, from my still life practice, where I do use lots of sculptural shapes."
Working with Adriana Hanna gave Turnbull a chance to make the make the most of a small footprint. The kitchen includes an incredibly well-hidden pivot door. Looking, for all intents and purposes like a fridge door or pantry cupboard. It may also be the most pleasant surprise. When closed the pinkish hue resumes the lines and detail of the cabinetry, but when open sends light down a small hall revealing and beckoning to the room beyond.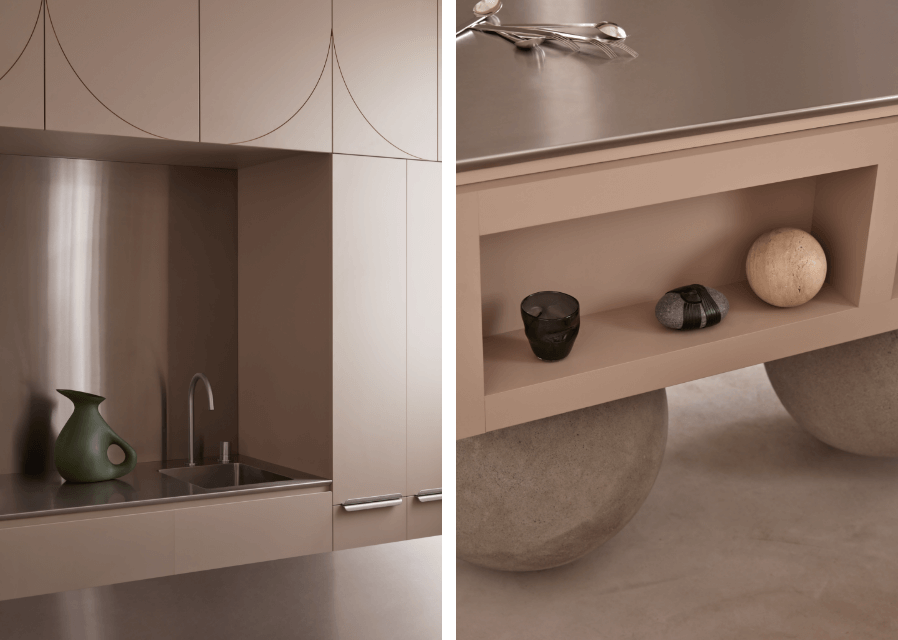 Soft touches continue into the bedroom with the similarly warm and dusty Laminex AbsoluteMatte Pewter. It's a warm grey that works with the gentle timber curves that have been designed to embrace and welcome, pulling the bed into the cabinetry to create an alcove and sanctuary and continuation of Hazel House's sculptural design themes.
Full of artwork and design from friends, ceramics from local artists and partner Sam's photography - arranged in an ever evolving and cycling gallery in the hallway, Hazel House is a calm oasis that belies Turnbull's own use of colour, but never bores or fades. It's the perfect canvas while able to hold its own. A home of creativity and peacefulness, a place to reflect and hide from the jobs, but not from the love of the work.
The Hazel House Products
Kitchen Joinery and Island: Laminex Peruvian Clay
Bedroom Joinery: Laminex AbsoluteMatte Pewter
Contributors
Design: Adriana Hanna
Styling: Nat Turnbull
Photography: Sean Fennessy
Customer Joinery: Grange Joinery
Video: The Local Project.